Looking at them, and dreading the task of peeling the skins, I sweetly asked my husband to help. In a rare moment of graciousness on the domestic front, he agreed.
To my surprise, he spent an entire hour peeling the tomatoes!
It was pretty cute to watch him struggle with his big fingers, along with his perfectionist attitude, to get every single last scrap of peel off those tomatoes!
I know I would have gotten the job done in less than a quarter of the time. But he was very proud of himself, and we enjoyed the tomatoes in the salad very much.
From now on though, I will look for larger tomatoes. They actually aren't hard to peel.
Apples and Goat Cheese
Apples: The method we use for cooking the apples renders them sweet and savory at the same time.
Apples are the perfect taste of winter brightness. Cooking brings out the apple's natural sweet flavor, and the searing adds savory umami flavor. With a bit of salt added, you are set with beautiful wedges of flavor bombs.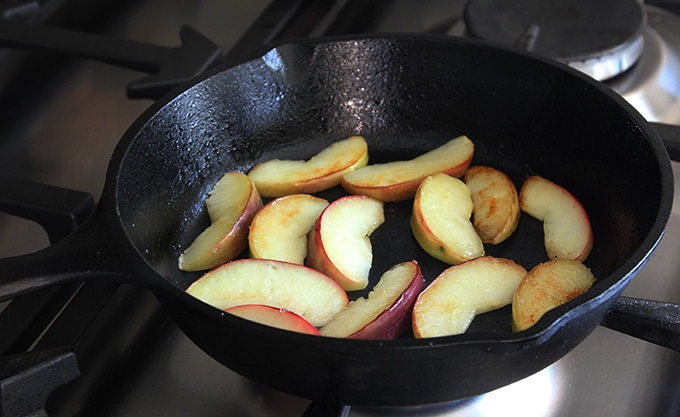 Goat Cheese: Goat cheese is the perfect pairing with apples and tomatoes. It is like a match made in flavor heaven.
To use the goat cheese, pinch off tiny chunks from your goat cheese log. Do not worry about the rustic shapes, as it all works for this salad.
If you don't like goat cheese, substitute with feta. It will work just as well in this salad.
The Dressing
The final piece in this simple salad is the dressing.
Any vinaigrette will do. Olive oil and your favorite vinegar (such as red wine, balsamic, ect.) will be perfect.
I can also suggest my simple and sophisticated Red Wine Vinaigrette. I feel red wine vinaigrette is the perfect complement for the savory and sweet fruits, and the smooth goat cheese.
Then, don't forget to finish your salad with a tiny pinch of salt and black pepper for extra zing and pop.
I hope you make this salad, and that you enjoy the natural sweetness of the cherry tomatoes and apples brightening up your day.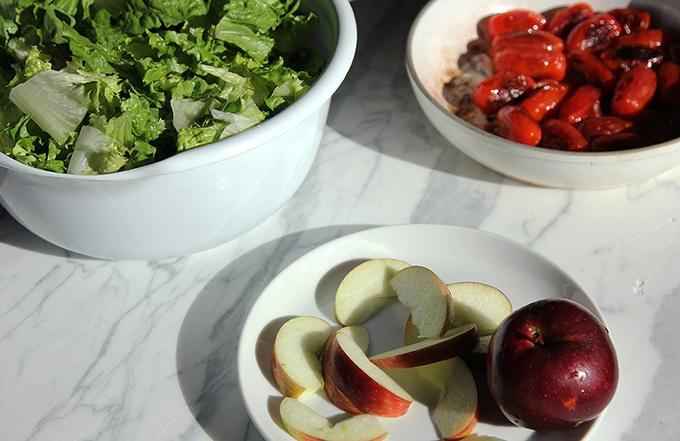 Recipe for Seared Apple and Cherry Tomato Salad with Goat Cheese
Prep Time: 15 minutes
Cook Time: 10 minutes
Total Time: 25 minutes
Servings: 3 servings
Calories: 255KCAL
Author: Andrea at Buttered Veg
Helpful Kitchen Tools:
Ingredients
For the lettuce
½ head red leaf lettuce, washed and chopped into bite-sized pieces (see notes)
For the Vegetable Sauté
1 tablespoon vegetable oil (high-heat safe), portion ½ tablespoon, then ½ tablespoon
1 package cherry tomatoes (about 25)
2 small apples, cored and sliced into wedges
To Finish the Salad
¼ cup goat cheese, crumbled (sub with feta)
salt, to taste
¼ cup vinaigrette
Instructions
For the Lettuce
Wash lettuce in a large bowl and spin it dry using a salad spinner. Place 6 cups lettuce, loosely packed, in a medium mixing bowl. Feel free to use a packaged prepared lettuce of your choice. Set aside until needed.
For the Vegetable Sauté
Wash cherry tomatoes and dry them on a clean tea towel. Heat ½ tablespoon oil in a small non-stock skillet on medium-high heat.
Add cherry tomatoes and a pinch of salt. Shake the pan to create an even layer, then leave the tomatoes to sear on the pan for a couple of minutes. Shake, and sear a second time. The tomatoes are done when you notice the tomato skins have bursted. Remove from heat, and transfer into a bowl to cool.
Prepare apples by slicing into 4, removing the core, then slicing into thin wedges. Heat a medium skillet on medium-high heat with the remaining ½ tablespoon of oil. Add the prepared apples and a pinch of salt. Sear until nicely browned, a couple minutes on each side. Remove from heat and transfer into a bowl to cool.
For the Vinaigrette
Simple olive oil, vinegar, salt and pepper works well for this salad. Or, you can make a vinaigrette from scratch. Refer to my recipe for Red Wine Vinaigrette.
Assemble the Salad
Remove the skins from the tomatoes using your fingers and discard them.
Dress the lettuce with about ¼ cup oil and vinegar, or vinaigrette. Mix gently with two large spoons, then transfer to a serving bowl.
Arrange the prepared tomatoes, apples, attractively on top of the lettuce. Pinch off pieces of goat cheese and add them on top. Drizzle more dressing on the cheese and fruit if you desire. Finish with a bit of salt and pepper.
To Serve
Enjoy this hearty green Seared Apple and Cherry Tomato Salad alongside a classic vegetarian dinner such, such as Vegetable Pot Pie or Yukon Gold Mashed Potatoes with Buttered Vegetables.
Nutrition 
Calories: 255kcal | Carbohydrates: 18g | Protein: 5g | Fat: 19g | Saturated Fat: 5g | Polyunsaturated Fat: 8g | Monounsaturated Fat: 5g | Trans Fat: 0.03g | Cholesterol: 9mg | Sodium: 92mg | Potassium: 373mg | Fiber: 3g | Sugar: 13g | Vitamin A: 4476IU | Vitamin C: 24mg | Calcium: 58mg | Iron: 2mg
This article was originally published on butteredveg.com
Follow Buttered Veg on Instagram
creditSource link