These stunning cheesecake bars feature a coconut and vanilla wafer cookie base, an ultra-creamy vanilla bean cheesecake, topped with a tart layer of passionfruit gelée on top.
The richness of cheesecake paired with the vibrant tartness of passionfruit, altogether in one delicious (and downright impressive) dessert.
There's no denying cheesecake is one of the richest desserts out there. Which is why you often see it topped with a fruit sauce like raspberry: that hint of acidity cuts the richness of the cheesecake, resulting in a perfectly balanced dessert.
These passionfruit cheesecake bars take that concept and turn it up to 11.
The passionfruit layer can only be described as bright. Like really, really bright. Both in color (seriously, I almost had to dial down the saturation in these photos it was practically glowing), and also in flavor. The tartness is almost like a super-lemon, just as mouth-puckering but with a tropical flair.
With a coconut and vanilla wafer crust, and an ultra-creamy vanilla bean cheesecake base, these eye-catching cheesecake bars are like a little slice of summertime, all year round.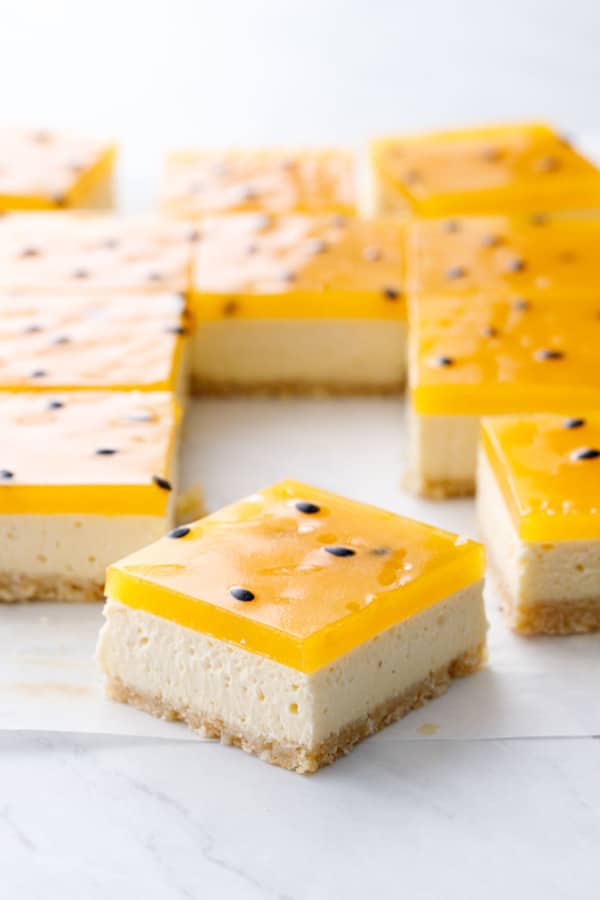 Sure, a big, towering slice of cheesecake is great, but I'm particularly fond of cheesecake bars, which are smaller, more manageable squares of cheesecake baked in a square baking pan instead of a round springform pan.
Cheesecake bars are like casual versions of cheesecake, more suitable for everyday and not just special occasions. They're great for parties and group gatherings, since they're easier to eat and slice into smaller servings more appropriate for snacking and mingling.
You also don't have to deal with the finicky nature of springform pans, water baths, and all that jazz. Instead, just line a square baking pan with parchment (which you'll then use to lift out the entire block in one piece) and bake away.
Speaking of parchment lining, for this recipe you ideally want a solid, uncut piece of parchment. Use the same technique as method # 2 in the above linked post, but without the cuts (instead you'll just fold the corners in like origami). This ensures your liquid gelatin mixture doesn't leak out the sides.
Pick your Passion
I used whole passionfruit pulp for this recipe, which I strained to get pure 100% passionfruit juice. I didn't have access to fresh whole passionfruit this time, but I was able to find some good quality frozen pulp here. It comes in approximately 90g packs, I used about 4 of them to get the 200g strained juice for this recipe.
If you can find pure passionfruit juice, that will work here too, though it is likely diluted so the flavor won't be quite as intense. Additionally, if it is sweetened you may want to reduce the sugar accordingly.
If you have access to fresh passionfruit, you'll need about 20 or so fruits to yield the 200g (which is just under a cup) of juice.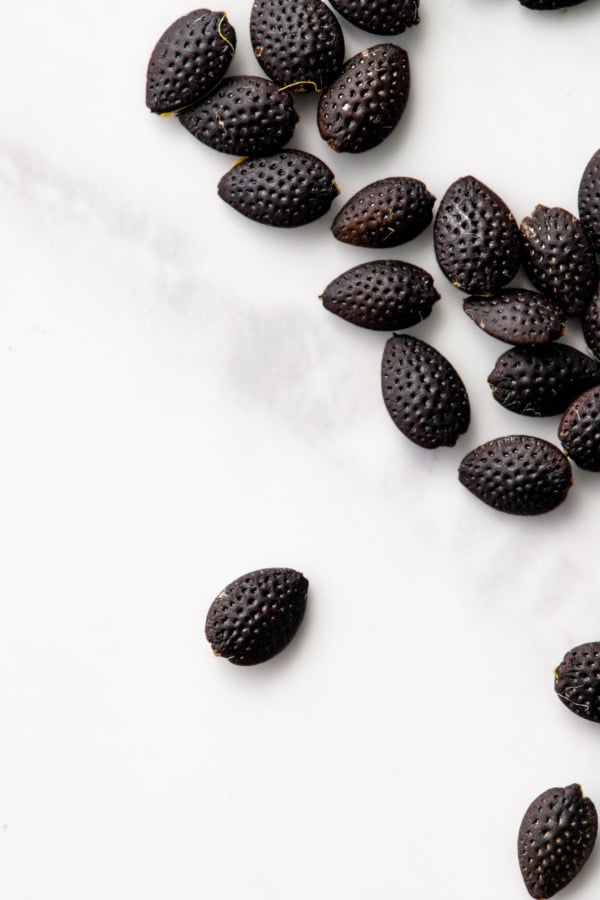 So passionfruit seeds are actually kind of awesome. You'd think they were just smooth black things, but if you look closely you'll see the surface is covered in tiny divots. As if passionfruit didn't look alien enough already.
If you have leftover seeds from straining your passionfruit pulp, and want to use them as garnish, spoon about 1/4 cup of leftover pulp into a fine mesh sieve and rinse well. Place a few seeds at a time on a paper towel and 'smear' the seeds across the surface of the towel to remove any pulp still attached to them. Repeat until you have a tablespoon or two of cleaned seeds; set aside to dry, then sprinkle on top of your gelatin layer after pouring.
The seeds are very crunchy, but not tooth-breakingly so. But if you prefer you can also make this recipe without seeds entirely, if you can only find juice or simply don't want anything marring the mirror-like surface of the gelatin layer.
The Trick for Perfect Layers
The key to the glass-like gelatin top layer is to let it chill and thicken just right before pouring it on top of your cheesecake. Too thin and it will leak off the edges (since cheesecake tends to shrink a little bit when baked, the edges won't be completely flush with the sides of the pan; this is more apparent if you overbake the cheesecake). On the other hand, if you let it thicken too much it won't 'flow' into the perfect, glassy layer we're going for.
Needless to say, it needs to be just right. Goldilocks would understand.
I found that chilling it for about 75 minutes was just about right—at 60 minutes it was still a bit too thin, but at an hour and a half it was starting to get a little chunky (if I had poured it 10 minutes earlier I wouldn't have those little divots or waves in the top that you can see in some of these photos). Of course your results may vary depending on many factors like the temperature of your fridge and the container in which you chill it.
Give it a gentle stir every 20 or 30 minutes to ensure it cools evenly. Seriously, set an alarm because if you're anything like me you are easily distracted and will completely forget about it.
Ideally you're looking for a thick yet still pourable consistency. Think warm caramel sauce or ranch dressing or something of similar viscosity.
To test, drop a few passionfruit seeds into the mixture. They should remain suspended in the middle somewhere (anyone remember those Orbitz drinks? That's exactly what I mean). If they sink right to the bottom you need to chill the mixture it a bit longer.
If you accidentally let it chill a bit too long and it's no longer smooth and pourable, microwave it in short, 5-second bursts, gently stirring in-between, until it's just barely smooth again. You may need to re-chill it again if it gets too warm and thin.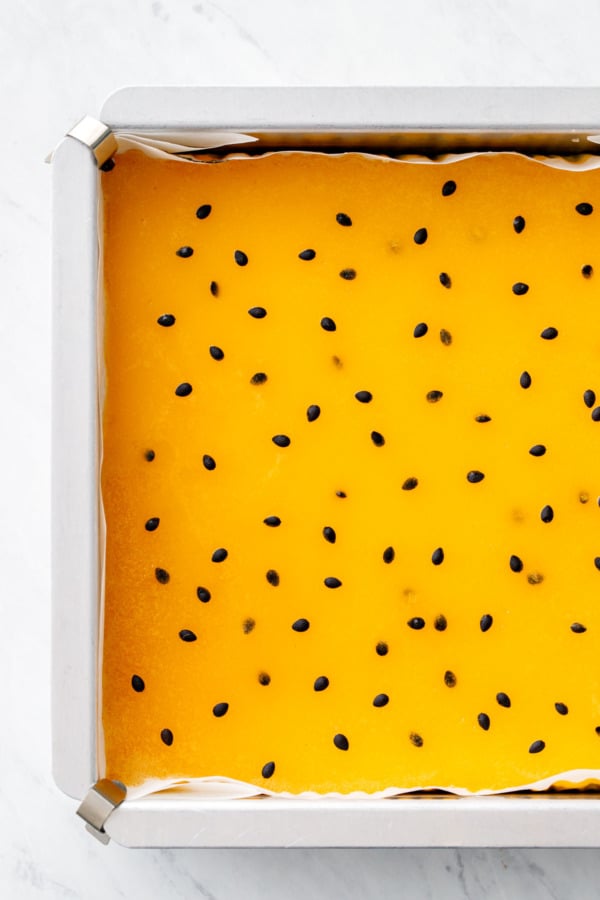 Powdered vs Sheet Gelatin
I used powdered gelatin for this recipe, as I found it gave me a more consistent, reliable set than sheet gelatin. Sheet/leaf gelatin will, however, give you a more glass-like, clear layer on top. Typically 1 teaspoon powdered gelatin is equivalent to 1 sheet of Gold or Platinum leaf gelatin, though some sources say 1 tablespoon equals 4 sheets. I have not personally tested this recipe with leaf gelatin; I'd probably err on the site of too much gelatin that not enough for this recipe, and recommend going with the higher conversion. In which case you'd need about 5 1/3 sheets of Gold or higher gelatin.
If, for some reason, your gelatin layer is not setting, you can always pour it off, warm it up again, and add more gelatin. It's a bit messy, sure, but will save you from having to remake the recipe in its entirety.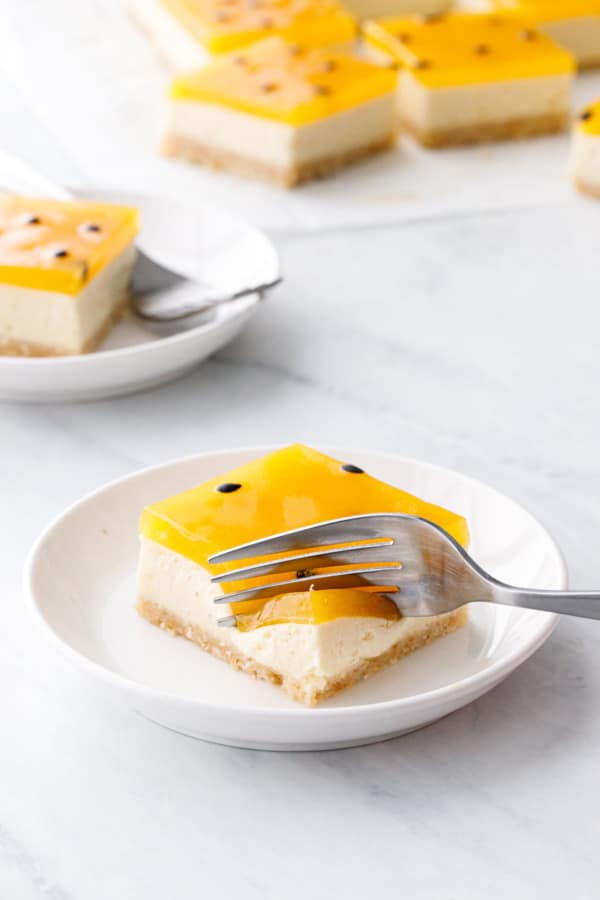 Tips for Success
Line your pan with parchment, ideally a single piece without cuts. I used a technique similar to method #2 described here, just without making the cuts in the parchment (instead just fold it in the corners like origami). This will help your gelatin layer not leak out the sides. The clips in the corners are actually the clips from Weck jar lids, they help the parchment stay in place and not droop inward.
Room temperature ingredients are key! Take out your cream cheese, eggs, and sour cream AT LEAST 1 hour before you start baking, more if your kitchen is on the cool side. This is not something you can rush. Trust me, this is the #1 key to making the smoothest, creamiest cheesecakes.
Use a food processor for the easiest, smoothest texture. Stand mixers incorporate much more air, which can result in cracks later. If you do use a stand mixer or electric beater, use low speed and scrape down your bowl regularly.
Don't overbake it. Cheesecake has a tendency to crack or shrink when it is overbaked, which for this recipe would mean your top layer would flow right off. You're looking for set sides and a center that jiggles like firm jello (it shouldn't look liquidy at all, but it should also still jiggle a little bit when you take it out of the oven.)
Let it cool completely before refrigerating to prevent condensation from forming on the surface of the cheesecake. Also be sure you let your gelatin layer completely set before slicing, overnight ideally.
If you notice bubbles in your gelatin layer, you can ruin a kitchen torch over them briefly and they should disappear. Careful, especially if it is still in the parchment-lined pan, you don't want to set the paper on fire.
Get the cleanest cuts by using running your knife under hot water for a few seconds, then pat dry and make your cut in one smooth movement (no sawing). Slide out the knife then wipe or rinse it off between each cut.
Swaps & Substitutions
Coconut: the shredded coconut in the crust gives it a bit of extra oomph, but it can be left out. I recommend unsweetened coconut, as the filling is plenty sweet on its own.
Vanilla Wafters: In place of vanilla wafters you can also use graham crackers or shortbread cookies.
Passionfruit: As discussed above, this recipe calls for fresh passionfruit pulp that's been strained to remove the seeds. Passionfruit juice will work as well, though try to find one that is close to 100% juice if you can you preserve the intensity of the topping. If it is sweetened, you may want to adjust the quantity of sugar in the topping to taste.
In lieu of passionfruit I also think this recipe would work well with mango puree or pineapple.
Gelatin: Also as described above, this recipe calls for powdered gelatin. You can also use sheet gelatin (I recommend Gold). About 5 1/3 sheets should be equivalent to the 4 teaspoons of powder. I have not tested this recipe with gelatin alternatives like agar agar; while they may work, they won't be nearly as clear or shiny as gelatin.
Cream Cheese: Use full fat cream cheese in this recipe; mascarpone would work fine too. Also be sure it is completely room temperature (along with your eggs and sour cream) before starting.
Sour Cream: Full fat, please. Technically full fat Greek yogurt will work here, however the final texture will not be quite as creamy. Also be very careful not to overbake it or it may be rubbery.
Passionfruit Cheesecake Bars
These stunning cheesecake bars feature a coconut and vanilla wafer cookie base, an ultra-creamy vanilla bean cheesecake, topped with a tart layer of passionfruit gelée on top.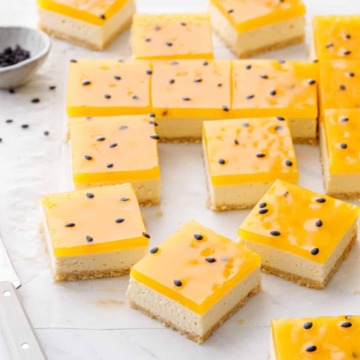 Ingredients:
For Crust:
5oz (142g) vanilla wafer cookies, finely ground (1 cup crumbs)
1/4 cup shredded unsweetened coconut
pinch sea salt
4 tablespoons (57g) unsalted butter, melted
For Filling:
12 ounces (340g, 1 1/2 packages) full fat cream cheese, at room temperature
1/2 cup (120g) sour cream, at room temperature
1/3 cup (66g) granulated sugar
2 tablespoons (16g) all-purpose flour
2 large eggs, at room temperature
1 tablespoon lemon juice
2 teaspoons vanilla bean paste or extract
pinch salt
For Passionfruit Layer:
4 teaspoons (12g or not quite 2 full packets) powdered gelatin
6 tablespoons cool water
7/8 cup (200g) passionfruit juice or strained passionfruit pulp (strained from about 350g fresh passionfruit pulp with seeds; reserve some seeds if desired for garnish*)
1/4 cup (50g) granulated sugar
1/4 cup (60mL) filtered water
Directions:
Take out your cream cheese, eggs, and sour cream at least an hour before baking; these ingredients must be at room temperature or you will end up with lumpy batter.
Preheat oven to 350 degrees F. Butter a 9-inch square pan; line with parchment paper, leaving an overhang over two of the edges.
Combine cookies, coconut and salt in a food processor and pulse until very finely ground. Drizzle over melted butter and pulse until evenly moistened. Press into bottom of prepared pan. Bake crust for 8 to 10 minutes or until set, then remove from oven and let cool completely.
Reduce oven temperature to 325 degrees F.
In a food processor or the bowl of a stand mixer, pulse room temperature cream cheese, sour cream, sugar, and flour until smooth. Add eggs, one at a time, mixing well after each addition and scraping down the sides of the bowl as necessary to be sure all ingredients are evenly incorporated. Add lemon juice, vanilla and salt and pulse once or twice more.
Pour batter into cooled crust, spreading into an even layer. Bake for 18 to 20 minutes or until the center of cheesecake is set but still barely jiggly (take care not to overbake or it may crack or shrink). Let cool on a wire rack to room temperature, then refrigerate for at least 1 hour.
To make passionfruit layer, fill a small bowl with 6 tablespoons cold water. Sprinkle gelatin over top and set aside to bloom for 5 minutes. There should be no visible dry white powder left on top.
Meanwhile, heat strained passionfruit juice together with sugar and water in a small saucepan over medium heat until sugar is completely dissolved.
Melt bloomed gelatin in the microwave in short, 5-second bursts for 5 to 15 seconds until melted. Pour into saucepan with passionfruit juice. Remove from heat and transfer to a heat-proof glass measuring cup or pitcher (if you notice any white chunks of undissolved gelatin floating around, pour through a fine mesh sieve to remove these first). Refrigerate, stirring every 20 to 30 minutes (set an alarm so you don't forget!) until juice is thickened but not completely set. You're looking for a thick, but still pourable liquid—if it is too thin it will flow off the edges of the cheesecake; too thick and you will not get an even layer. A good way to test is to stir in a few passionfruit seeds. They should stay suspended in the middle of the mixture, not sink to the bottom. If you find your gelatin has set too much, rewarm in short, 5-second increments in the microwave, stirring in-between until no longer chunky, then re-chill as needed to thicken.
Once your gelatin is partially set, pour over the back of a spoon or spatula onto chilled cheesecake mixture (the spoon will keep the liquid from disturbing the cheesecake below it). Tap to remove air bubbles and spread into corners. If desired, sprinkle some cleaned passionfruit seeds over top of gelatin mixture (if your mixture has thickened properly, they should stay suspended on top of the liquid and not sink completely).
Return to refrigerator and chill at least 2 hours or ideally overnight until passionfruit layer is completely set. Gently use the parchment overhang to lift the entire slab out of the pan. Place on a cutting board and slice into squares (use a large chef's knife, run it under hot water to warm it up and wipe it clean between each slice). Serve chilled or at room temperature. Bars will keep in an airtight container in the refrigerator for up to 5 days.
If you have leftover seeds from straining your passionfruit pulp, and want to use them as garnish, spoon about 1/4 cup of leftover pulp into a fine mesh sieve and rinse well. Place a few seeds at a time on a paper towel and 'smear' the seeds across the surface of the towel to remove any pulp still attached to them. Repeat until you have a tablespoon or two of cleaned seeds; set aside to dry.
Did you make this recipe?
Let us know what you think!
Leave a Comment below or share a photo and tag me on Instagram with the hashtag #loveandoliveoil.
There may be affiliate links in this post. We are a participant in the Amazon Services LLC Associates Program, an affiliate advertising program designed to provide a means for us to earn fees by linking to Amazon.com and affiliated sites.
creditSource link