Talk about starting the day off right, this decadent marzipan-stuffed French toast is an almond lover's delight. Two thick slices of buttery brioche with a layer of creamy marzipan spread in between, it takes Brunch to an entirely new level.
If you love the flavor of marzipan, this stuffed French toast is right up your alley. The creamy almond filling is similar to what you'd find in the middle of an almond croissant, soft and gooey and bursting with almond flavor.
What's not to love: a creamy almond filling sandwiched between two thick slices of buttery brioche, then soaked in an egg and milk custard and pan-fried for a perfectly golden brown and crispy finish. Topped with toasted almonds, a dusting of powdered sugar and a drizzle of maple syrup, it's the perfect brunch recipe you never knew you needed.
Yes, I've called it marzipan-stuffed French toast, but if you want to nit pick, almond paste-stuffed would be the technically correct name. But that doesn't sound nearly as appealing as marzipan-stuffed, does it? In reality almond paste is a more rustic version of marzipan, marzipan being a sweeter and more finely textured almond paste. At least here in the States, what is sold as marzipan and almond paste are two different things (in Europe good quality marzipans are much more prevalent, unlike the dried out, overly sweet stuff we're stuck with here).
The filling is similar to that of an almond croissant; when it's cooked it gets wonderfully gooey but still retains that distinct almond flavor (there's no denying this recipe is plenty almondy even without any added extract).
The filling could also be described as a frangipane-like, which is an almond custard used in fruit tarts and other baked goods (though frangipane usually starts with almond flour rather than almond paste).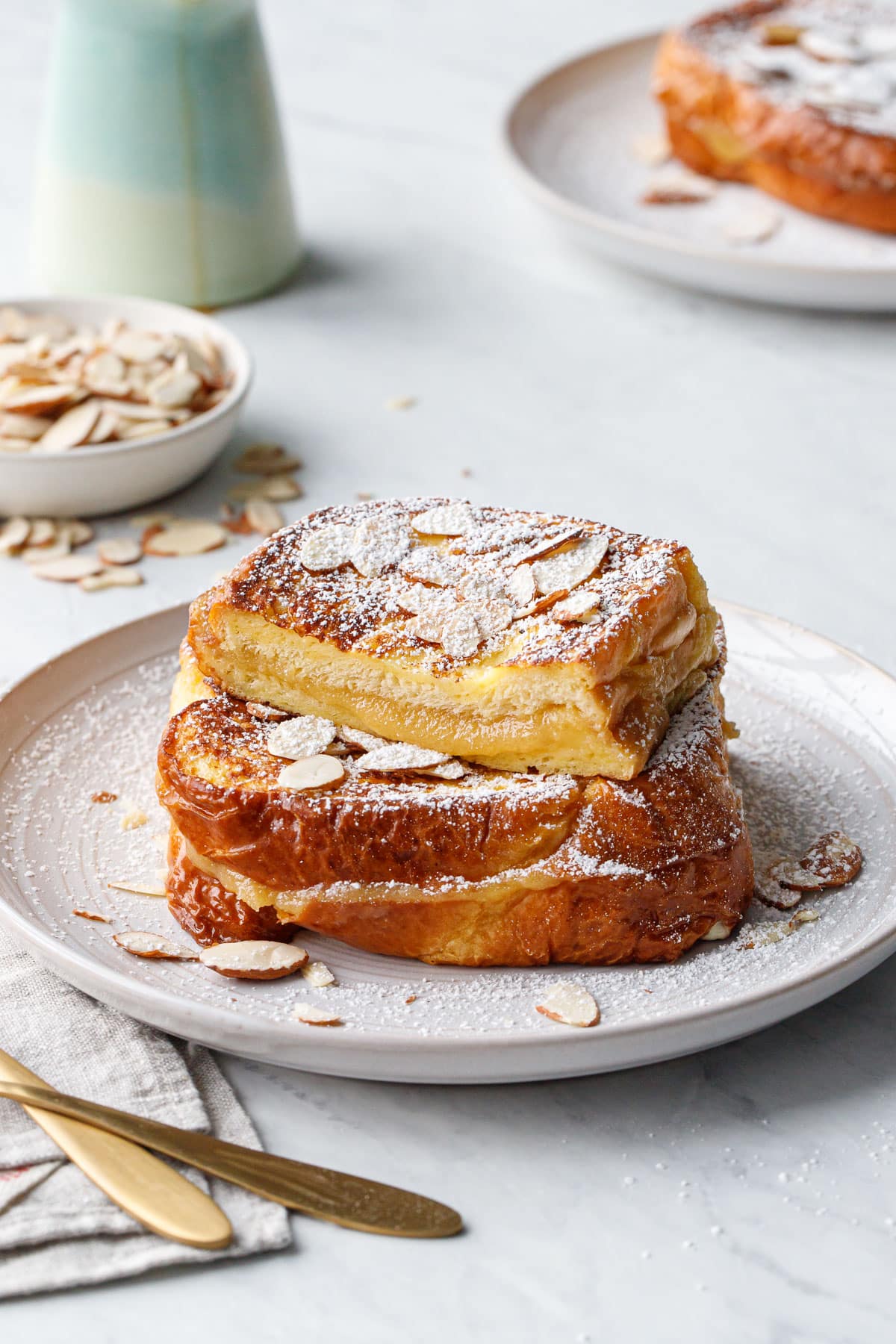 This isn't the first time I've stuffed something with marzipan. From marzipan stuffed cookies to marzipan layered brownies, marzipan swirled ice cream to marzipan studded apple pie, it should be obvious to you that I absolutely love anything and everything almond.
In fact I have a stuffed French toast recipe in both of our cookbooks (one is cookie dough-stuffed, obviously, with a savory lasagne-stuffed French toast in Breakfast for Dinner). In both of those cases I cut a thin slit in a thick slice of brioche bread, and spread the filling inside that. So more of a bread pocket than a sandwich.
This recipe is a bit easier to assemble, since the almond filling is more than sticky enough to adhere two pieces of bread together. The whole almond-stuffed sandwich is then dipped in the custard and then pan-fried like a grilled cheese.
Unlike some of my other French toast recipes (helloboozy caramel and horchata, I did not add any additional sugar to the custard, since the almond filling is plenty sweet on its own. That said, the sugar-less custard doesn't get quite as crispy when cooked, but in this case I opted for a balanced sweetness over a crispier exterior.
Yes, it's still quite sweet. You probably don't even need the powdered sugar and syrup on top (though I can't pass up an opportunity for a good pour shot).
If you want to maximize the crispness, add 1 tablespoon sugar to the custard and then sprinkle a little more on both sides before placing it in the skillet.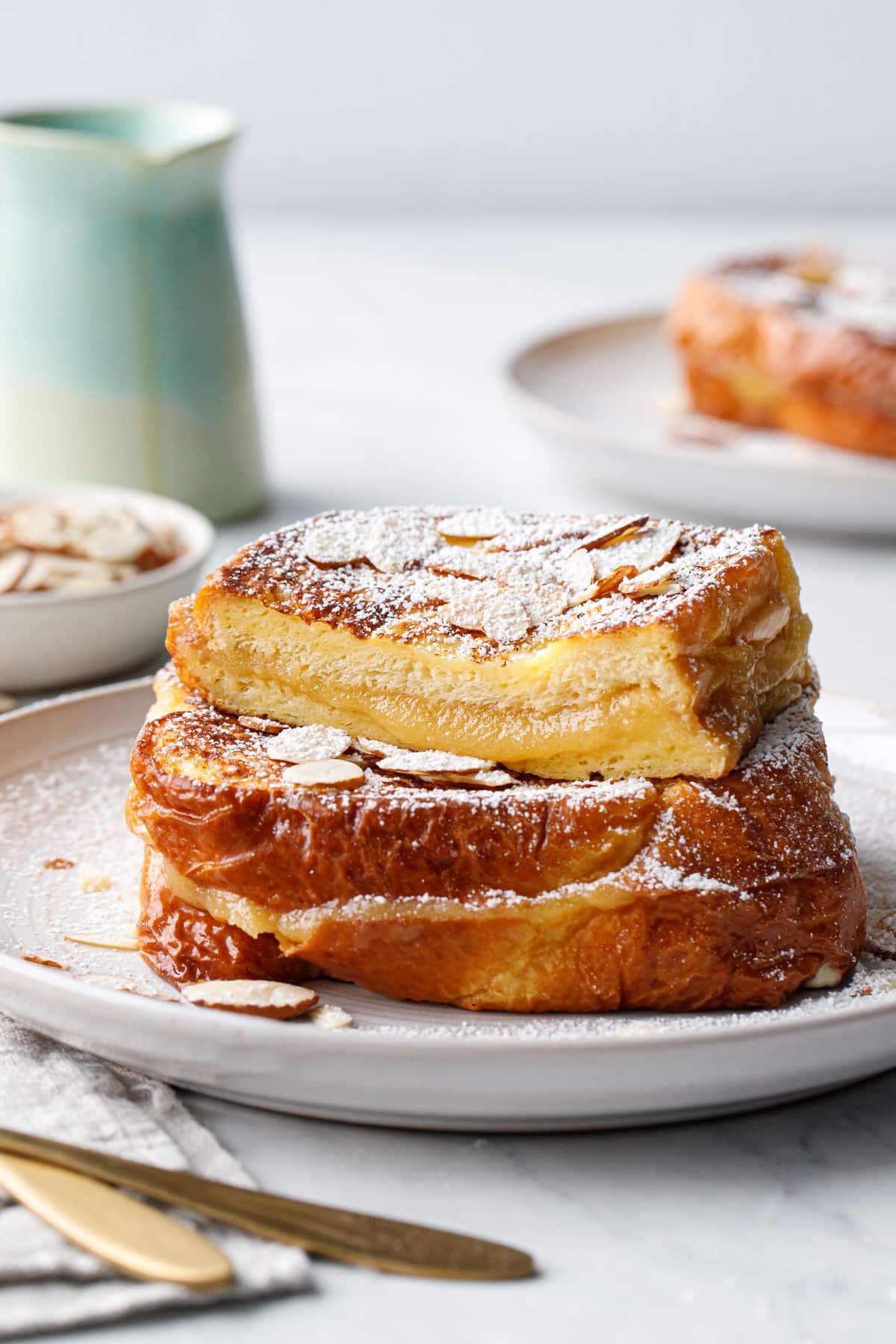 Tips for Success
If your bread is fresh it's always a good idea to dry it out a bit first, which will allow the bread to absorb more of the custard without getting soggy. If your bread is older and already a little dry you can skip this step.
Don't dip your bread until your pan is hot and you're ready to cook, otherwise the bread may absorb too much liquid resulting in a soggy French toast (and we know no one likes a soggy bottom).
Because of the double-decker thickness, you'll notice the recipe calls for 10 minutes in the oven after browning on the stovetop. This will ensure the filling is completely heated through… and as an added bonus, even if you have to cook two batches they'll all be ready to eat at the same time.
While the French toast itself cannot be made ahead of time, you can make both the filling and the custard ahead of time if you'd like! Both can be mixed up and stored overnight in the refrigerator until ready to use. Bring to room temperature before assembling.
Bready or not…
What kind of bread you use for your French toast makes a huge difference. In short, good bread makes for good French toast. In my opinion, brioche or challah is the best bread for French toast—it's sturdy enough to absorb the custard without falling apart, but it's still perfectly soft and easy to cut with a fork. And the rich, buttery flavor makes for an even more decadent French toast.
If you can't find anything remotely brioche-like, look for something light but sturdy in texture without a super-thick chewy crust (thick crusted breads like sourdough are often too tough and will require a knife to cut). French bread doesn't make for quite as good French toast as brioche will, but it'll do in a pinch.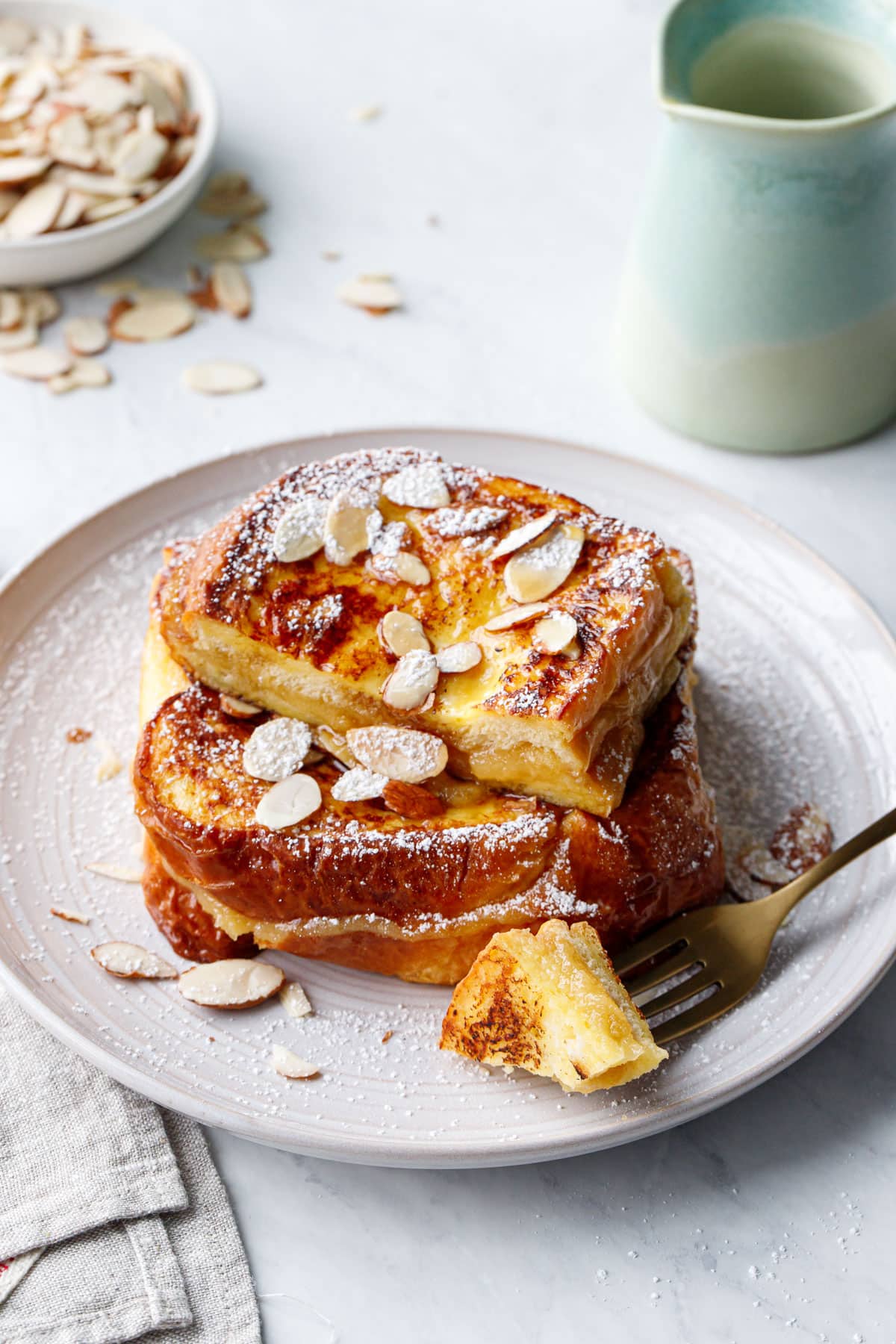 Swaps & Substitutions
Almond Paste: A soft paste made from almonds, sugar and egg whites. It's not the same as marzipan (which typically has a much higher proportion of sugar and would be far too sweet for this recipe). I usually buy Solo brand Almond paste which can be found in the baking aisle. Solo also makes a product called almond filling which is an entirely different thing altogether; if this is all you can find, just use that directly as your filling (skip the egg and butter).
You could also make your own almond paste from scratch, which would also let you adjust the sugar quantities to your liking.
If your almond paste is too dry or hard to mix by hand, you can gently warm it in the microwave, draped with a damp paper towel to add back some moisture. Then pulse with the egg and butter in a food processor until it becomes a smooth, spreadable paste.
Brioche Bread: Brioche is my favorite bread for French toast; challah or other enriched egg bread would be the closest. I don't recommend using chewy, crusty breads here (the final French toast will be too tough), but something like a French bread would work in a pinch.
Whole Milk: I always prefer whole milk, but you're totally fine using 2% here instead. This recipe will also work with milk alternatives like soy or almond, though the final product won't be quite as rich and creamy, or a dairy free creamer.
Eggs: While I haven't tested this recipe personally with an egg replacement, because the egg isn't actually providing structure or support (as in cakes for instance), I think you'd be fine using a liquid whole egg replacer (like Just Egg) in this recipe. Do NOT use other common egg swaps like applesauce or flaxseed though as the texture would not be right.
Marzipan-Stuffed French Toast
This sinful marzipan-stuffed French toast is an almond lover's delight, with two thick slices of buttery brioche with a layer of creamy almond spread in between.
8

thick slices brioche bread

½

cup

/

50

g

sliced almonds
For Filling:
5

oz

/

150

g

almond paste

,

broken into pieces

1

tablespoon

/

14

g

butter

pinch

salt

1

large egg

,

lightly beaten
For French Toast:
3

large eggs

¾

cup

/

180

g

whole milk

butter

,

as needed for cooking

confectioners' sugar

,

optional, for topping

maple syrup

,

optional, for topping
Preheat oven to 300 degrees F. Arrange bread slices on a baking sheet in a single layer. Bake for 5 minutes or until bread is slightly dried out and toasted, but not yet starting to brown. If your bread is somewhat old and already dried out a bit you can skip this step.

Spread almonds in a single layer on a baking sheet. Bake for 3 to 5 minutes or until toasty and just starting to brown. Set aside.

Place almond paste and butter in a microwave-safe mixing bowl. Soften in the microwave in a few short bursts (you don't want to melt the butter, just soften it). Use a stiff spatula or wooden spoon to mix by hand until evenly incorporated (you can also do this in a stand mixer or food processor if you want). Mix in salt. Add lightly beaten egg and mix until it forms a smooth, spreadable paste.

Preheat a large non-stick skillet over medium-high heat.

Smear 1/4 of almond paste mixture onto four slices of bread, spreading into an even layer. Top with another piece of bread to form a sandwich, and press lightly to adhere.

Whisk together eggs and milk. Pour into a shallow baking dish (a small-ish casserole dish is usually perfect for this).

Dip assembled sandwiches into batter, letting one side soak for 5 to 10 seconds then flip and soak the other side. If your skillet can only fit 2 sandwiches at a time, wait to dip the remaining 2 until just before you cook them.

Rub skillet with butter (you don't need a lot, just a thin layer to prevent sticking). Place batter-soaked sandwiches into hot skillet, leaving enough space between them so they can still be easily flipped.

Cook for 2 to 3 minutes per side or until golden brown, then flip and cook for 2 to 3 minutes more. Transfer to a baking sheet and then repeat with remaining slices.

Once all slices are cooked, place baking pan in the oven (still set to 300 degrees F) for 5 to 10 minutes or until heated through.

Transfer to serving plates. Sprinkle with toasted almonds, dust with powdered sugar, and drizzle with maple syrup as desired.
All images and text © for Love & Olive Oil.
There may be affiliate links in this post. We are a participant in the Amazon Services LLC Associates Program, an affiliate advertising program designed to provide a means for us to earn fees by linking to Amazon.com and affiliated sites.
creditSource link