get fresh recipes via email:
Chocolate and raspberry, together at last in one sweet and salty (and delightfully crumbly) mouthful.
Jam crumb bars are one of my favorite desserts, and this choco-fied version is no exception: a layer of bright raspberry jam sandwiched between sweet and salty oatmeal shortbread, and chunks of bittersweet chocolate melted on top for good measure.
Oat and jam crumb bars are, well, kinda my jam. I love being able to use up the random half-filled jars of jam floating around the fridge (because, surprisingly, for as much jam as I make we really don't eat that much of it). Jam bars are like thumbprint cookies with half the effort.
A layer of crumbly oat shortbread + fruity jam + even more crumbles = one seriously tasty treat. Even more so when you add a double dose of chocolate to the mix. This is basically a choco-fied version of my original jam bars (one of the bonus recipes that comes with my Jam e-book bundle, and while I haven't shared it in full on the blog, it's one of my all-time favorites.)
You'd think chocolate crumb bars would be a thing, but usually it's just regular crumb with a layer of chocolate or chocolate chips or something, which is not nearly enough chocolate for me.
So I added cocoa to the crumb base AND chopped up pieces of dark chocolate on top, making for the extra-chocolatey crumb bar of your dreams.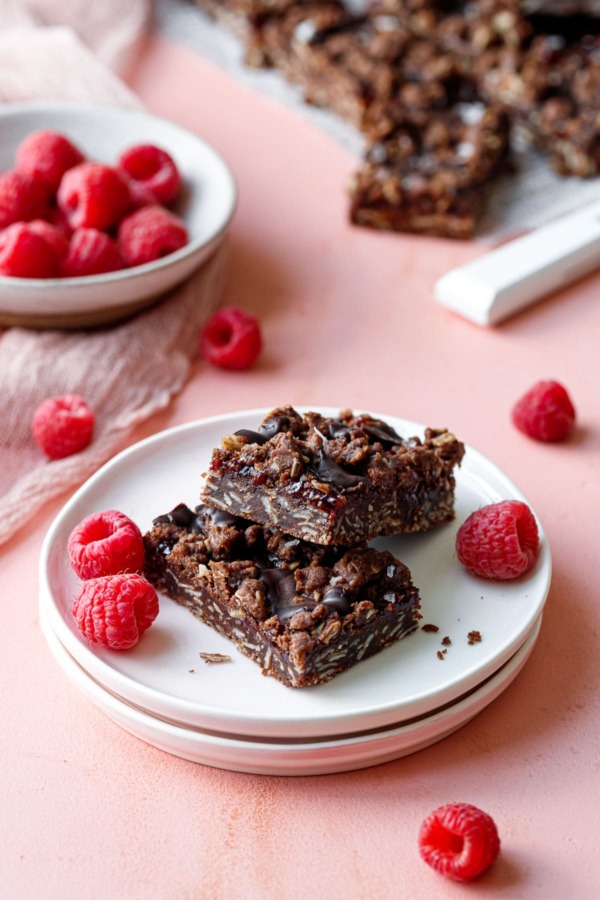 This is one of those unassuming recipes that doesn't look that impressive (it's no s'mores tart topped with berries and edible gold leaf), but it's just as satisfying, maybe even moreso for the pure simplicity and ease of preparation.
In other words, the effort-to-impact ratio is far higher than a high-effort/high-impact dessert like that tart, which in many ways makes it the superior recipe, wouldn't you say?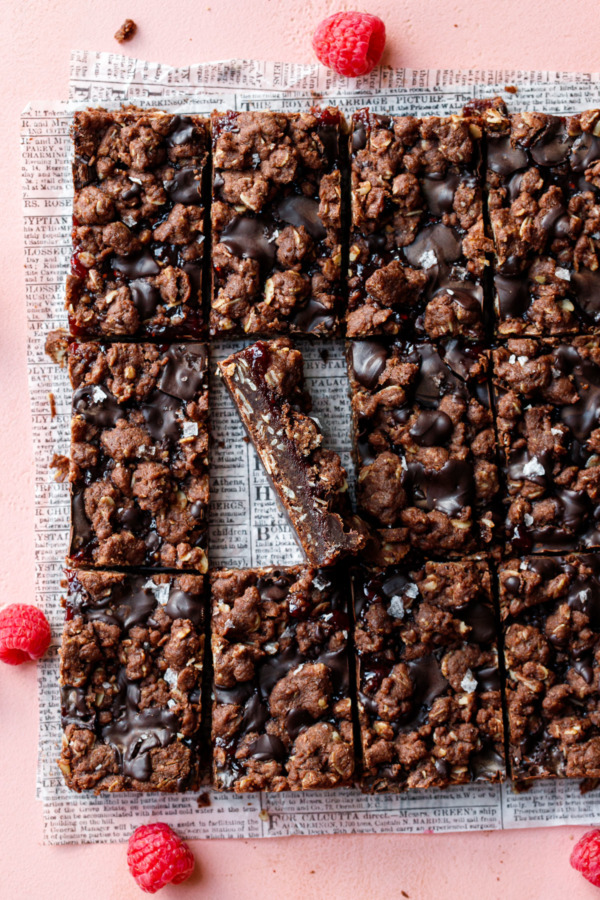 While I used raspberry jam (because, if you haven't noticed, raspberry and I sort of have a thing going right now), you can certainly use another flavor of jam here instead; really, if it's jam and if it goes with chocolate, it'll work in this recipe.
Heck, it doesn't even need to be jam…. can you say, dulce de leche, anyone?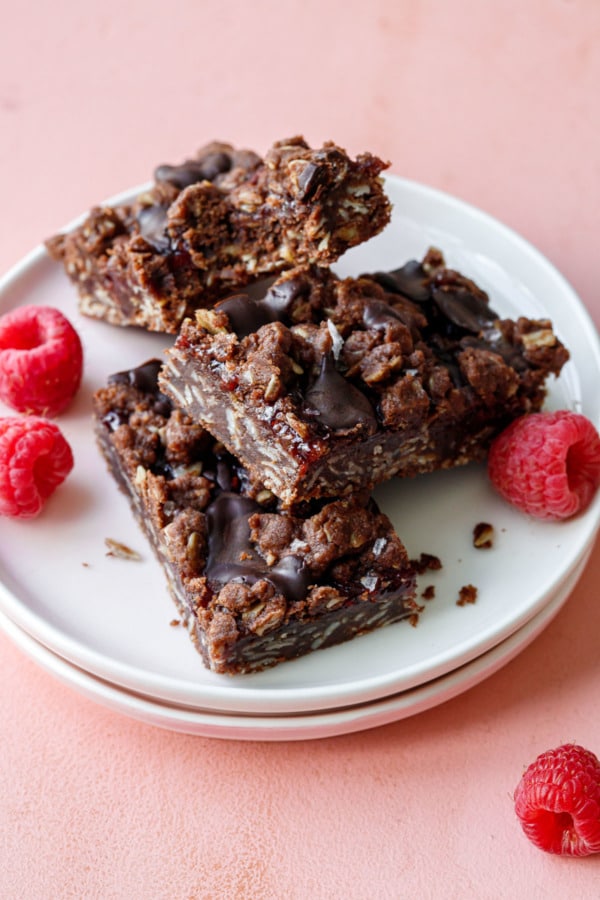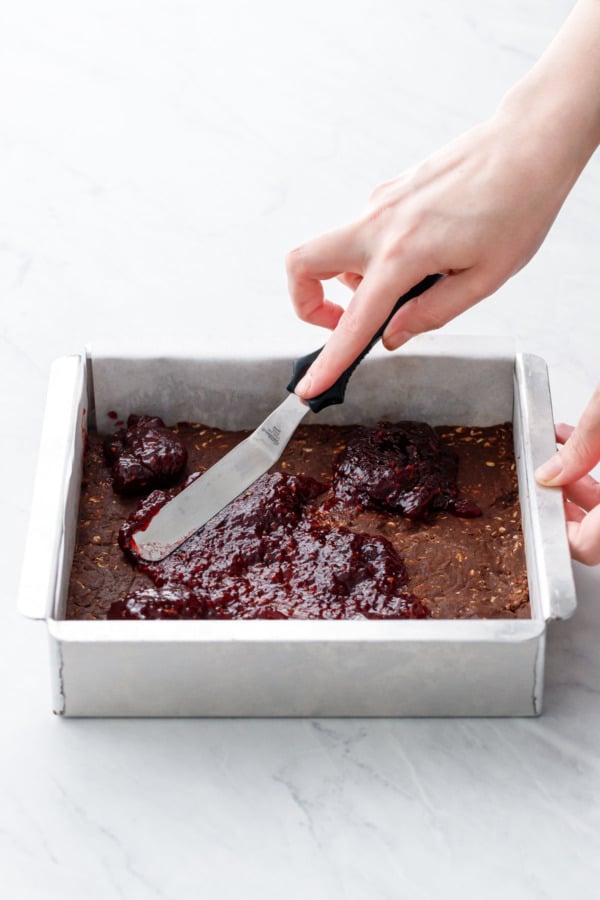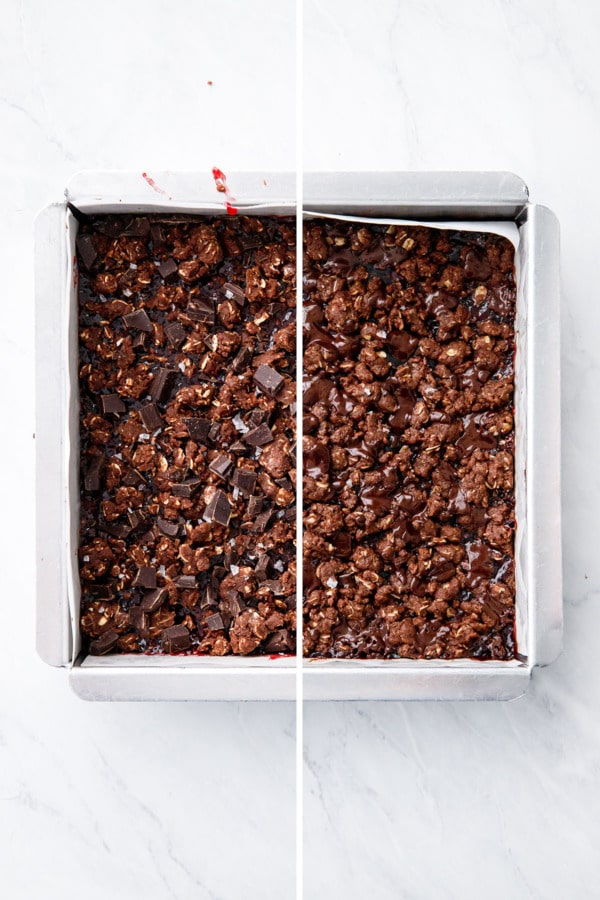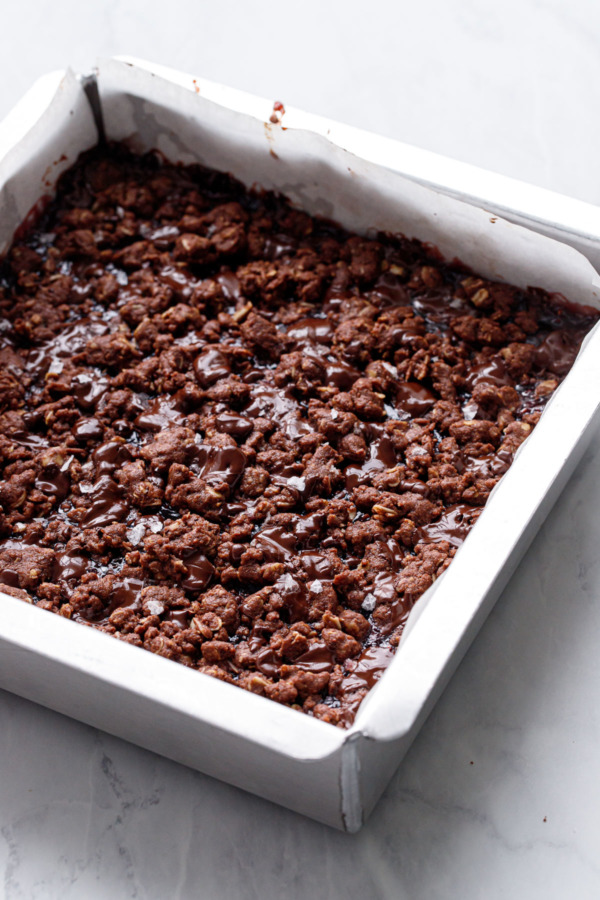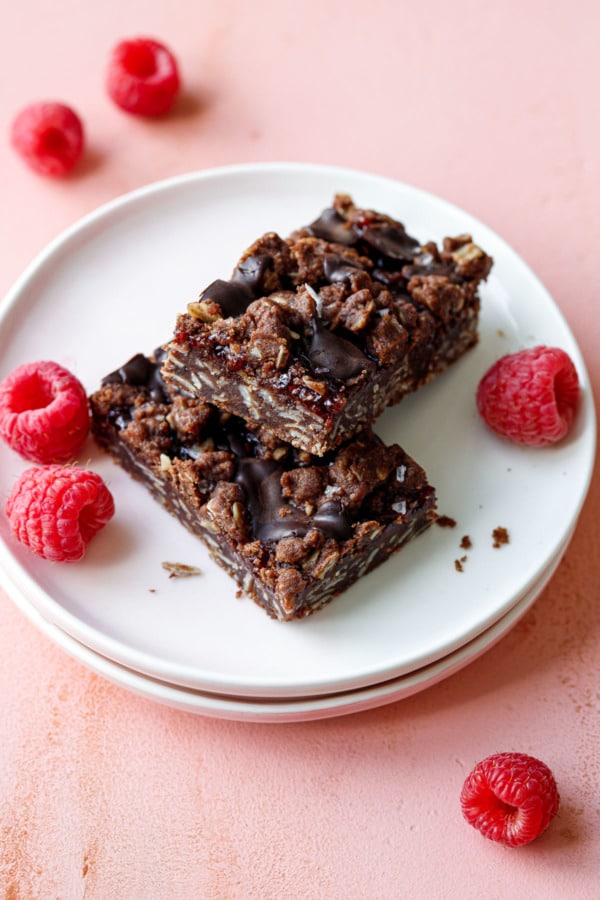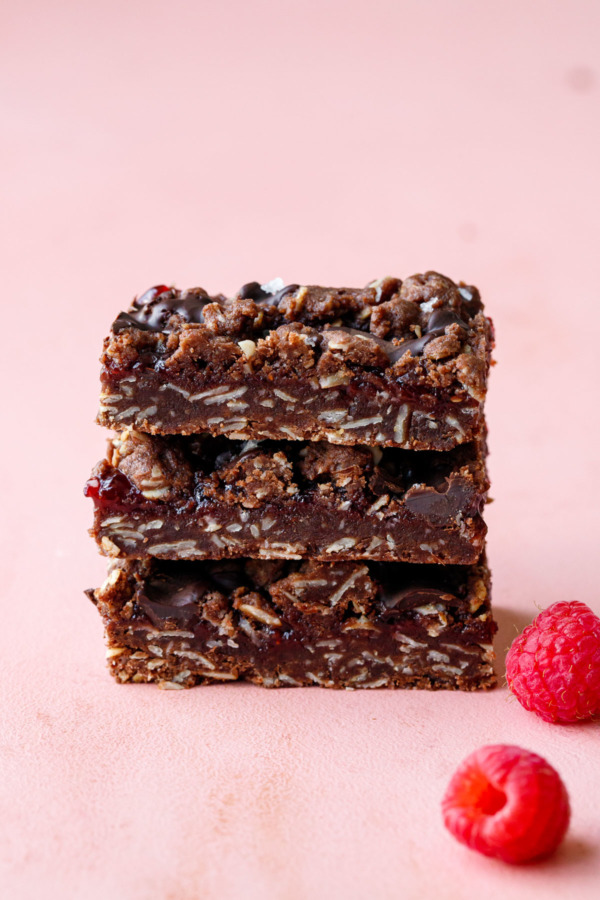 You'll notice this recipe calls for a coarsely chopped dark chocolate rather than chocolate chips.
While you can technically use chocolate chips here, I find they do not melt enough to stick to the crumbs on top—they'll fall right off the bars when you try to eat them.
And not that I'm opposed to messy desserts or anything (because I'm really not), but I found that using a good quality bar of dark chocolate here instead works much better. Chopped up into chunks and sprinkled over the top layer of crumbs, it melts and melds itself beautifully into the top layer of crumbs and helps hold the whole thing together.
My favorite chocolate to use in situations like these (also: cookie puddles) is Trader Joe's Dark Chocolate Lovers Bar, which is a lovely bright and fruity dark chocolate that goes really well with the raspberry jam, and it melts beautifully in the oven.
You can also use white chocolate because, hello. That combination would be divine (and I'm actually sort of regretting not doing that in the first place… I guess Taylor's strong anti-white-chocolate tendencies have started to influence my recipe testing choices).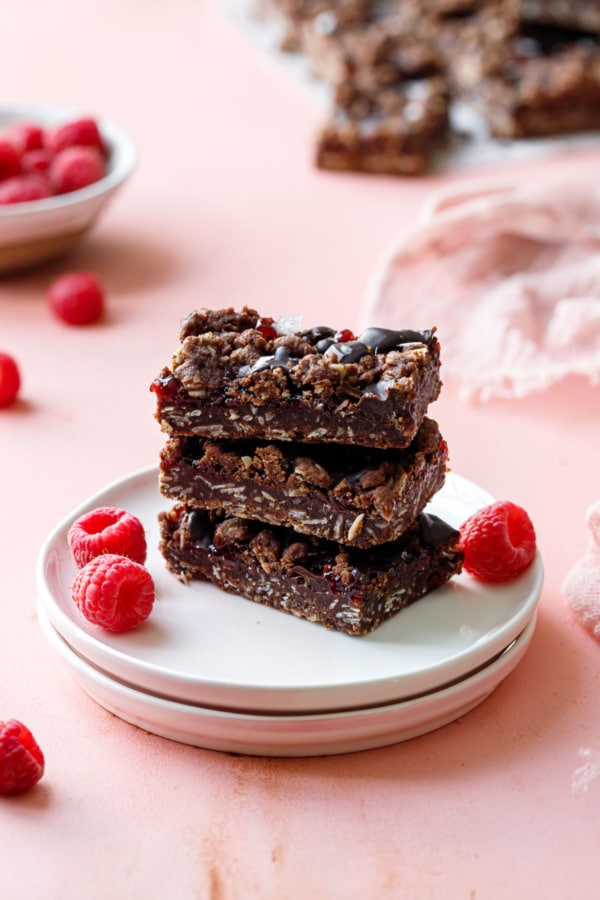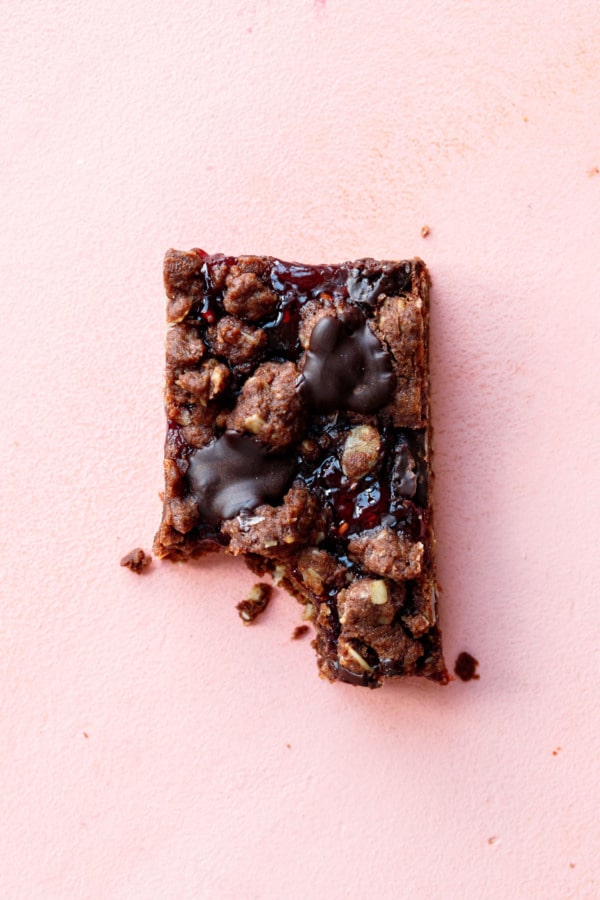 Crumb bars are one of the best make-ahead recipes around. They're already crumbly, so they don't really dry out, even after a week. I usually store mine in the fridge (I love the almost brownie-like texture and chew of the cold bars), but they're totally fine at room temperature too, so they'd be perfect for that summer picnic or potluck, perhaps?
I'd imagine they'd also freeze quite well if you wanted to store them even longer.
Chocolate Raspberry Crumb Bars
A layer of bright raspberry jam sandwiched between sweet and salty oatmeal shortbread, and chunks of bittersweet chocolate melted on top for good measure.
Ingredients:
1 1/4 cup (156g) all-purpose flour
1/2 cup (110g) brown sugar
3 tablespoons (20g) dark or Dutch process cocoa powder, sifted
1/4 teaspoon fine sea salt
1/4 teaspoon baking powder
10 tablespoons (141g) unsalted butter, at room temperature
1 teaspoon vanilla extract
1/4 teaspoon almond extract
1 cup (100g) rolled oats
1/2 cup (160g) raspberry jam
1.5oz (45g) coarsely chopped dark chocolate*
1/2 teaspoon coarse flake salt (such as Maldon)
Directions:
Preheat oven to 350 degrees F. Line an 8-by-8-inch square baking pan with parchment paper or aluminum foil and lightly coat with butter.
Combine flour, brown sugar, cocoa, salt, and baking powder in a large mixing bowl or the bowl of a stand mixer.
Cut butter into chunks and add to bowl with flour; mix on medium-low speed until butter breaks up into pea-sized chunks. Mix in extracts. Add oats and mix until dough comes together in crumbles.
Press about 2/3 of the crumb mixture (~325 grams worth) into prepared baking pan. Spread jam in an even layer on top. Finally, crumble remaining dough evenly over top. Sprinkle with chopped chocolate and flake salt to finish (optional).
Bake for 30 to 35 minutes or until jam is bubbly around the edges. Place on a wire rack to cool completely before slicing into bars and serving.
*While you can technically use chocolate chips, I find they don't melt enough to stick—they'll fall right off the bars when you try to eat them. Instead, I recommend using a good quality bar of dark chocolate, chopped into chunks which will melt beautifully into the top layer of crumbs.
Did you make this recipe?
Let us know what you think!
Leave a Comment below or share a photo and tag me on Instagram with the hashtag #loveandoliveoil.
There may be affiliate links in this post. We are a participant in the Amazon Services LLC Associates Program, an affiliate advertising program designed to provide a means for us to earn fees by linking to Amazon.com and affiliated sites.
creditSource link