Chocolate and orange together in one mouthwatering muffin! Studded with dark chocolate chunks and piled high with a crunchy chocolate streusel topping, these muffins are, simply put, showstoppers.
These orange-scented muffins are studded with dark chocolate chunks and topped with a sweet and salty cocoa streusel that bakes up delightfully crisp and crunchy, providing the perfect textural contrast to the lusciously soft and moist interior.
Ever wonder about the evolution of a recipe?
In this case, I actually set out to make craquelin-topped muffins, where I placed a disc of craquelin on top of the unbaked muffin batter, hoping it'd rise and crackle like a cream puff.
My first test came out surprisingly well (I was shocked, actually), but subsequent batches were not quite so aesthetically pleasing. Ultimately I nixed the idea (brilliant as it may be) just because the results were so inconsistent.
But I loved the taste and texture of the crispy craquelin on top of the softer muffin base—the rich chocolate flavor and punch of salt was the perfect contrast to the tender orange muffin. I didn't want to lose that, so I decided to replace the craquelin with a chocolate streusel topping instead to achieve the same textural contrast but hopefully with more consistent results.
I quickly realized that a chocolate streusel is nearly identical to the components of chocolate craquelin—flour, brown sugar, cocoa powder, butter and salt—just with slightly more flour and crumbled instead of rolled into disks. So really, I didn't have to sacrifice anything in the end!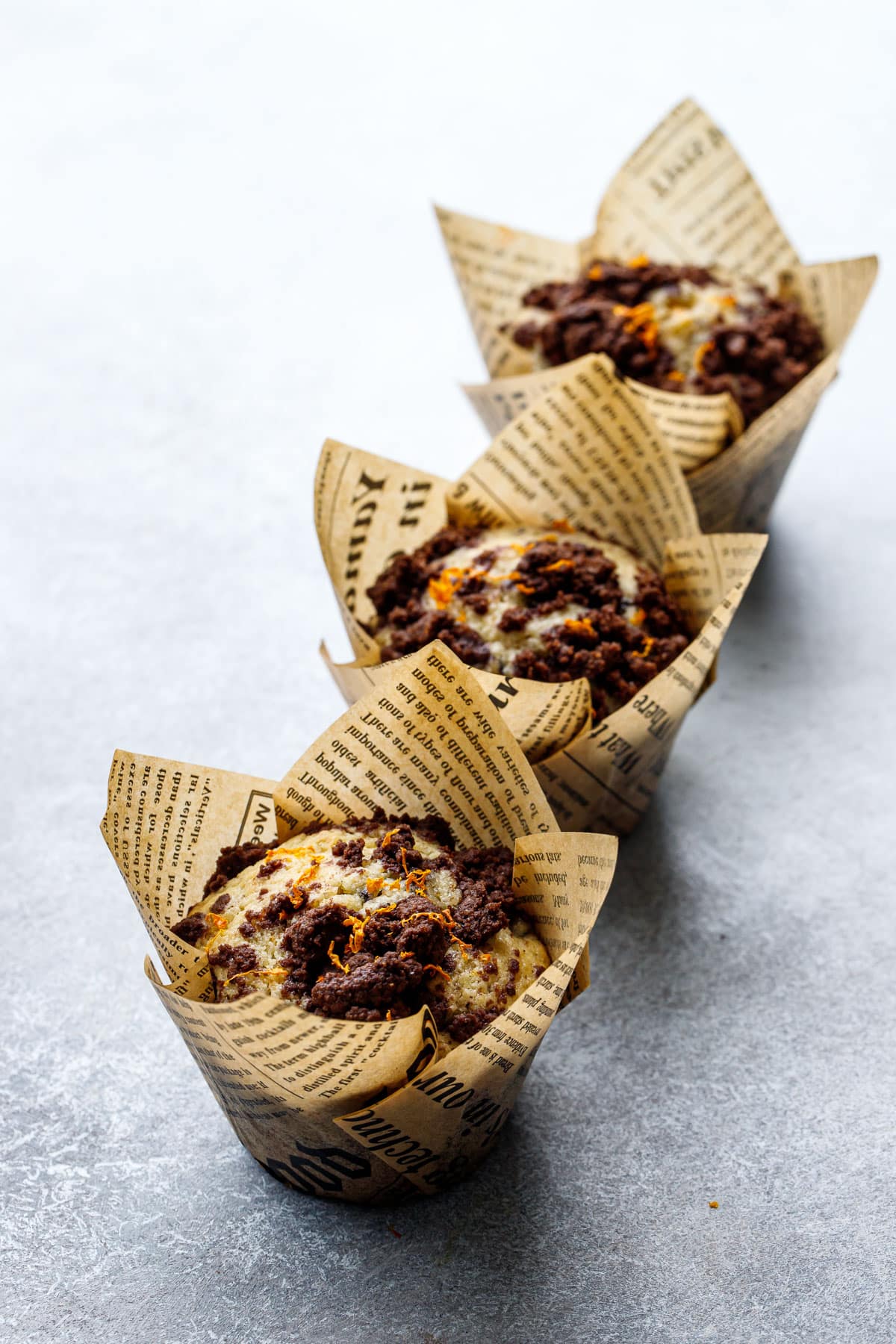 I tested chocolate streusels with both melted and cold butter, and ultimately decided on the cold butter version as I found it to be crunchier and less prone to sinking than the melted version. It comes together somewhat like a pie dough, although you want to keep working it and rubbing the butter into the flour and sugar mixture until it comes together into a dry dough; you won't have visible chunks of butter like with pie dough.
The crunchy muffin tops are arguably the best part of any muffin, doubly so for this version with its crunchy, salty chocolate streusel topping. That said, you can skip the streusel if you really want to; instead, sprinkle the tops with granulated sugar and add few chunks of chocolate to finish them off.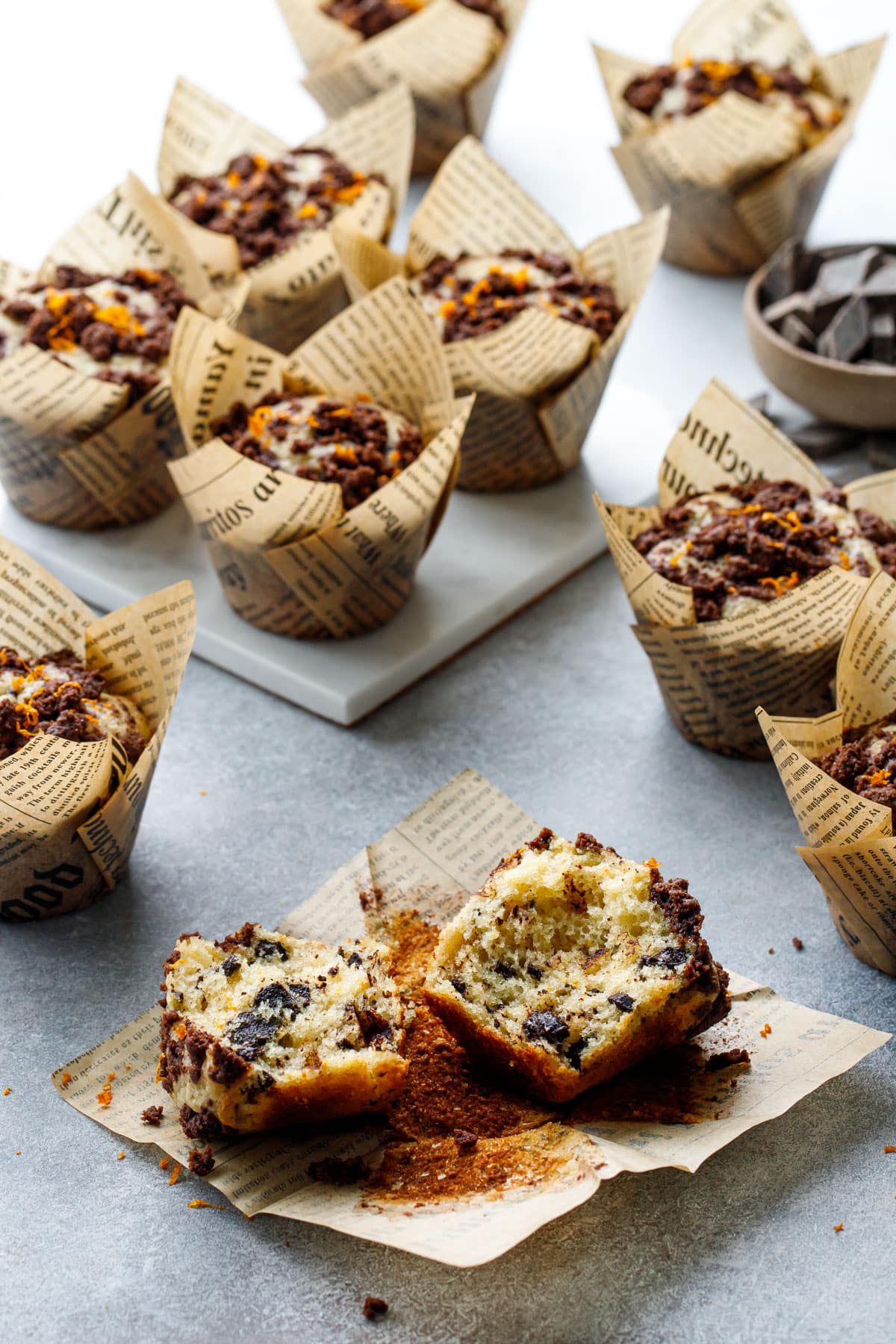 I also did some comparisons using the cake method versus the muffin method. While Taylor preferred the cakier muffins (creaming solid butter and sugar together, then adding eggs, results in a finer crumb, denser and more like a yellow cake), I ultimately went with the muffin method as I liked the looser texture and increased moisture. Not to mention the muffin method is far easier because you don't have to worry about butter temperature and batter curdling and all that nonsense.
I do still recommend that all your liquid ingredients be at room temperature (that means let the melted butter cool down a bit, and also let the milk, sour cream, and eggs sit out for at least 30 minutes before you start baking). That said, with the muffin method the ingredient temperatures are much less critical than the cake method.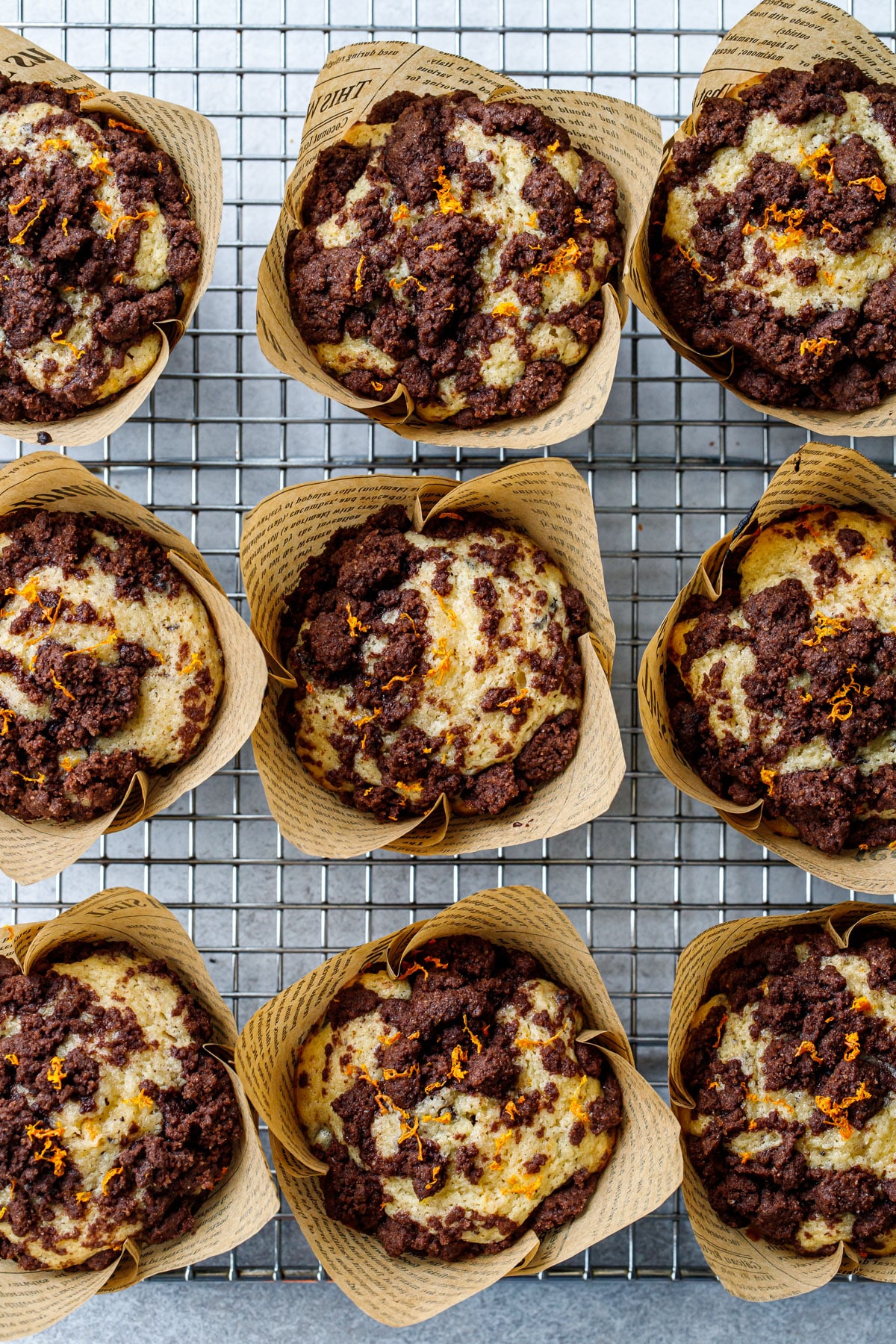 The orange flavor of these muffins isn't overwhelming, it's more an underlying essence that compliments the intense pockets of dark chocolate. I added some orange extract in addition to the orange zest, although you can certainly leave that out (the zest is really where the majority of the orange flavor comes from, as I discovered when I accidentally skipped the zest in one of my test batches—you could barely taste the orange flavor at all).
Alternatively, this muffin recipe would make a great base that you could adapt into myriad different flavor combinations! Replace the orange/orange extract with almond extract for chocolate almond muffins. Replace the dark chocolate with cranberries for cranberry orange muffins (you can also replace the cocoa in the streusel topping with either more flour, almond flour or even ground oats for a non-chocolate streusel topping).
The variations are endless!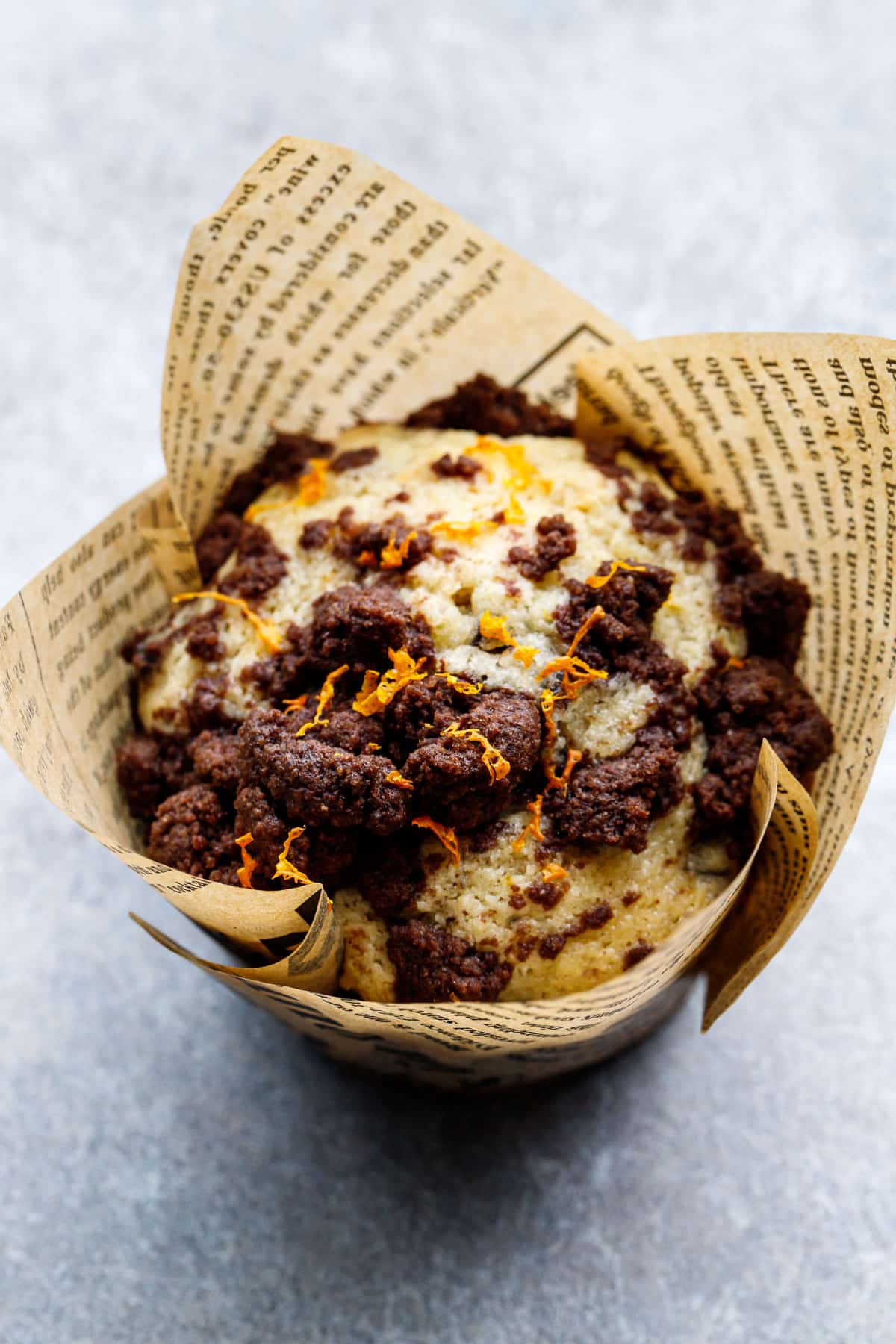 Ain't No Muffin High Enough
For a higher rise, I used a trick I learned from Michelle and only baked 6 muffins at once (using every other spot in the muffin tin). This allows for better airflow and produces a higher rise. Especially if you're using the larger tulip wrappers, the muffins will rise much higher with fewer muffins per pan.
One caveat to this method is if you end up with fewer than 6 muffins in a batch (the larger tulip papers use more batter, and so you'll only have 10 muffins rather than 12). If this is the case, fill the last two spots with a bit of water to mimic the muffin placement of the first batch. This will ensure everything bakes nice and even.
Speaking of muffin sizes… the tulip-style muffin papers I used for my muffins are much taller than standard muffin cups, so they can hold more batter and produce a taller muffin. They aren't quite jumbo muffins, but did use about 150% more batter than a standard muffin cup.
For larger, taller muffins using tulip papers, use a medium cookie scoop to portion out two generous scoops per muffin (that's about 5-6 tablespoons or 90g worth of batter). Tulip papers still fit in standard size muffin pans, they're just taller so they can hold more batter.
For standard size muffins, use normal papers and a large cookie scoop for about 3 tablespoons or 60g worth of batter per muffin.
Jumbo muffins are about 2 1/2 times the size of standard muffins, so they'll need a scant half a cup of batter each, 150g or so.
You'll notice the recipe calls for the batter to chill briefly in the fridge before baking. This 'rest' time will allow the flour to absorb more of the liquid, resulting in a stiffer batter that will more fully support the mix-ins and streusel topping, and produce a more pronounced rise in the final muffins.
I recommend a 30 minute rest, but 15 minutes is the minimum. You can also refrigerate the batter overnight even (this is a trick many pro bakeries use that leads to picture perfect peaks).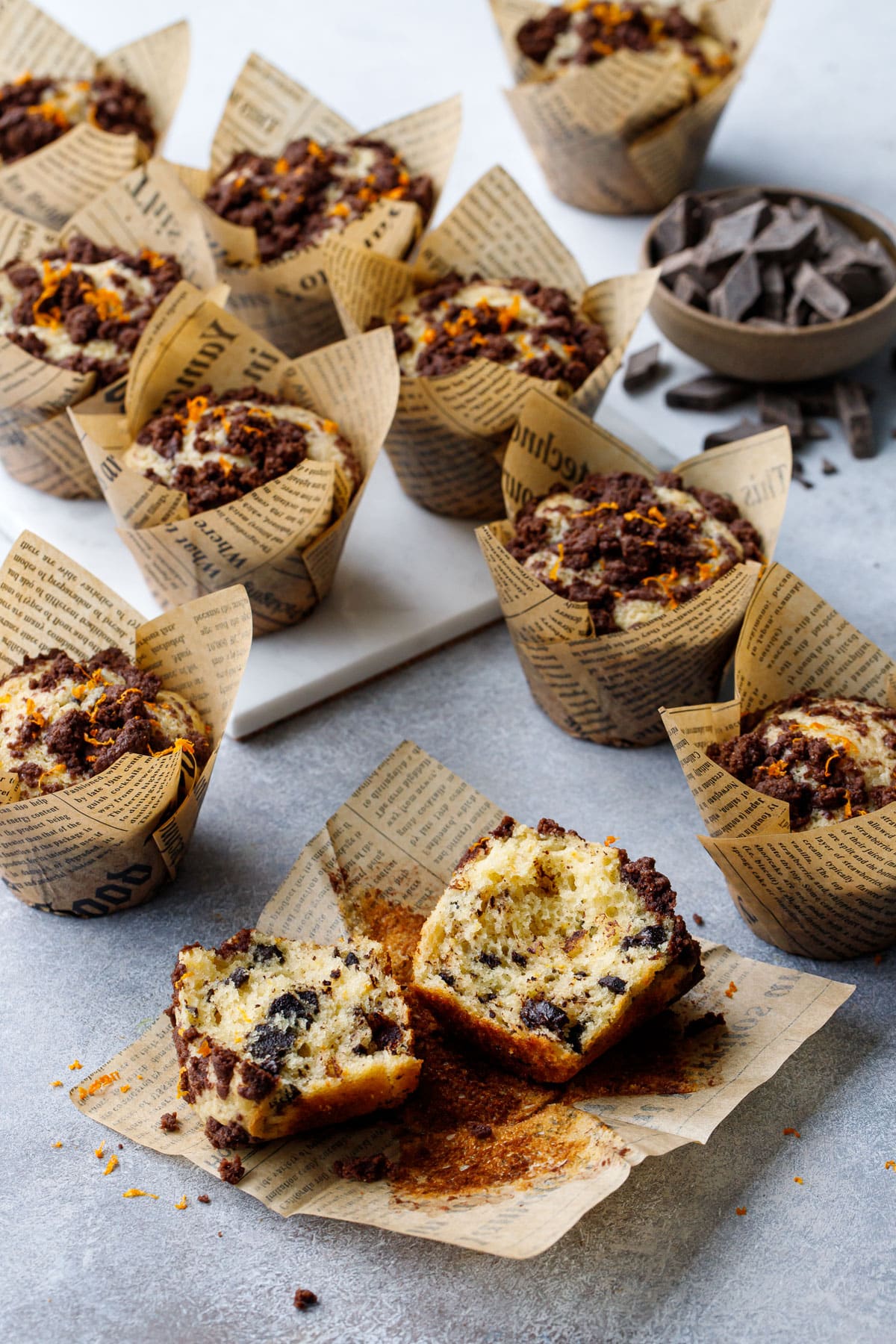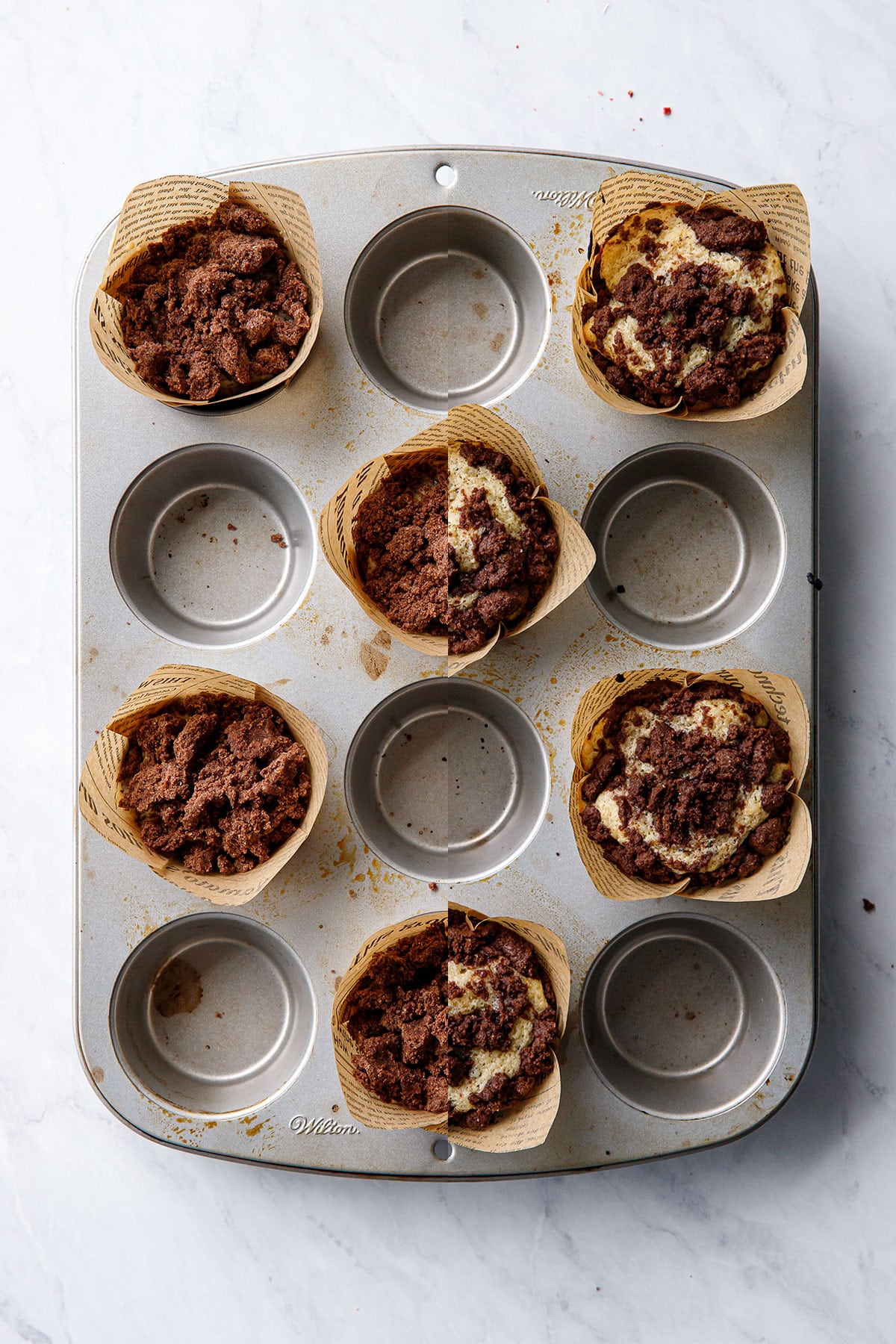 Tips for Perfect Muffins
Use room temperature ingredients. While you don't need to worry about letting your butter soften just right (since it gets melted), all your other liquid ingredients, including the milk, sour cream, and eggs, should be at cool room temperature before you begin. I like to take all my ingredients out at least 30 minutes beforehand, sometimes more in the colder months. For the butter, you will be melting it, but then you want to let it cool to lukewarm before mixing it in with the wet ingredients. If your butter is still too hot and you mix it in to cold milk it will solidify into globules of solid butter, which will lead to large air pockets in your muffin crumb.
Double the fun. Be sure your baking powder is double acting! I believe most baking powder sold in the US is double acting even if it doesn't say, but I purchased a fresh canister that explicitly said double acting for this recipe. Also be sure your BP isn't expired (this is one case where I always heed best by dates… if it's old, just toss it and get a fresh one).
Don't over-mix. After adding the wet ingredients to the dry, give it a few good stirs but stop when there are still visible streaks of flour. Add the chocolate chunks and fold it a few times just until chocolate is evenly distributed and no dry flour remains. The batter will still be somewhat lumpy; resist the urge to mix it until it's completely smooth (this can lead to a gummy texture and a shallower rise).
Let it rest. After mixing, lightly cover the bowl and pop it in the fridge for at least 15 minutes (though 30 would be even better). Resting the batter allows the flour to fully hydrate, creating a thicker batter (all the better for supporting the streusel!) Some pro bakeries even rest their batter overnight; I haven't tested an overnight rest personally but I bet it'd make for even taller muffins!
Pile it on. Be generous when adding the streusel topping. As the muffins rise, the streusel will spread out. So what might seem like an ungodly amount of streusel to begin with will be just right after baking.
Bake it hot. You'll notice this recipe calls for a 400 degree baking temperature (that's 205ºC). I find a higher temperature produces a more pronounced peak.
Cool it. Let your muffins cool for no more than 10 minutes in the pan, then transfer to a wire rack to cool completely. If you leave them in the pan the trapped steam will soften the muffin sides and even the crispy top. For the same reason, let the muffins cool completely before sealing in an airtight container (again avoid trapping steam or condensation).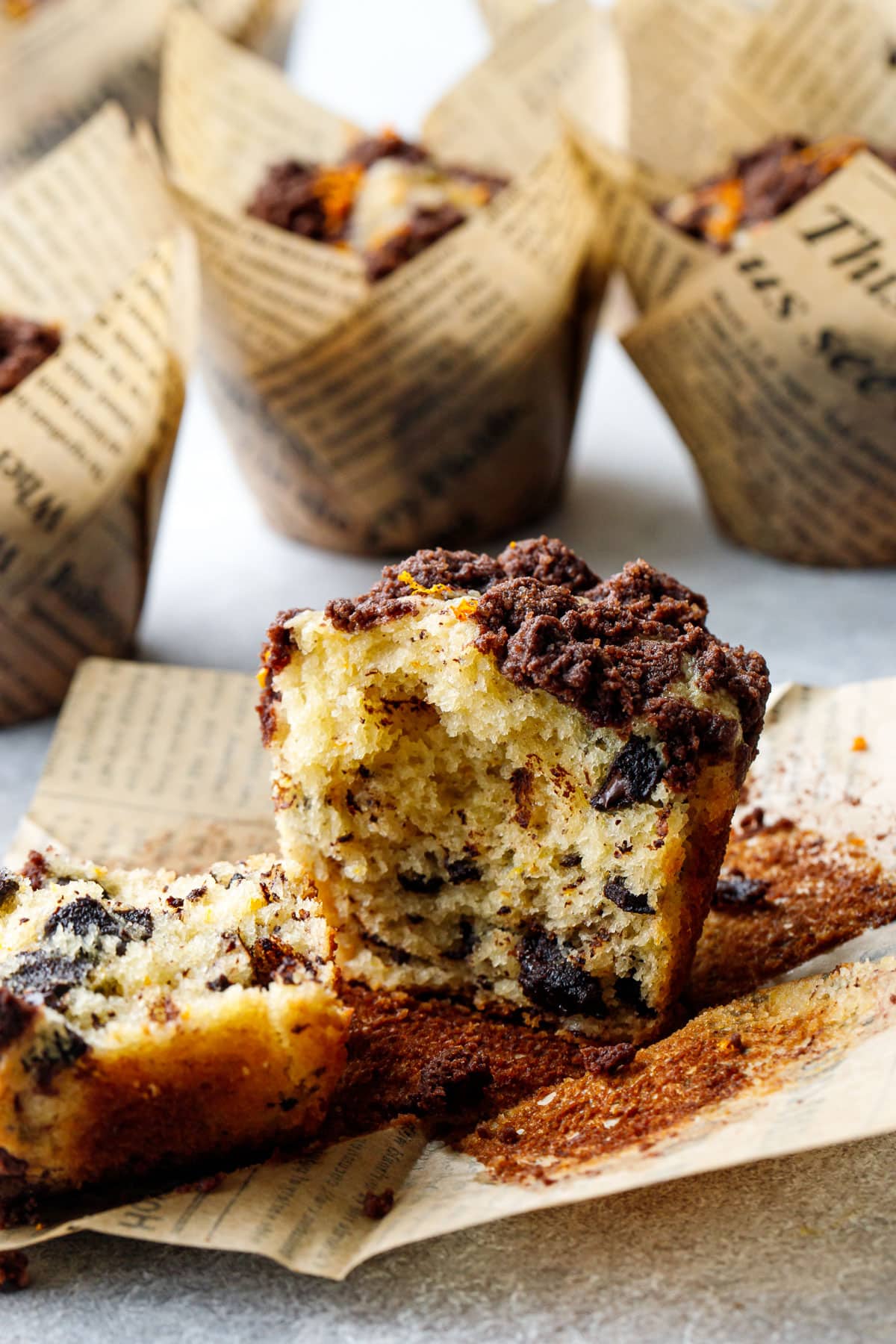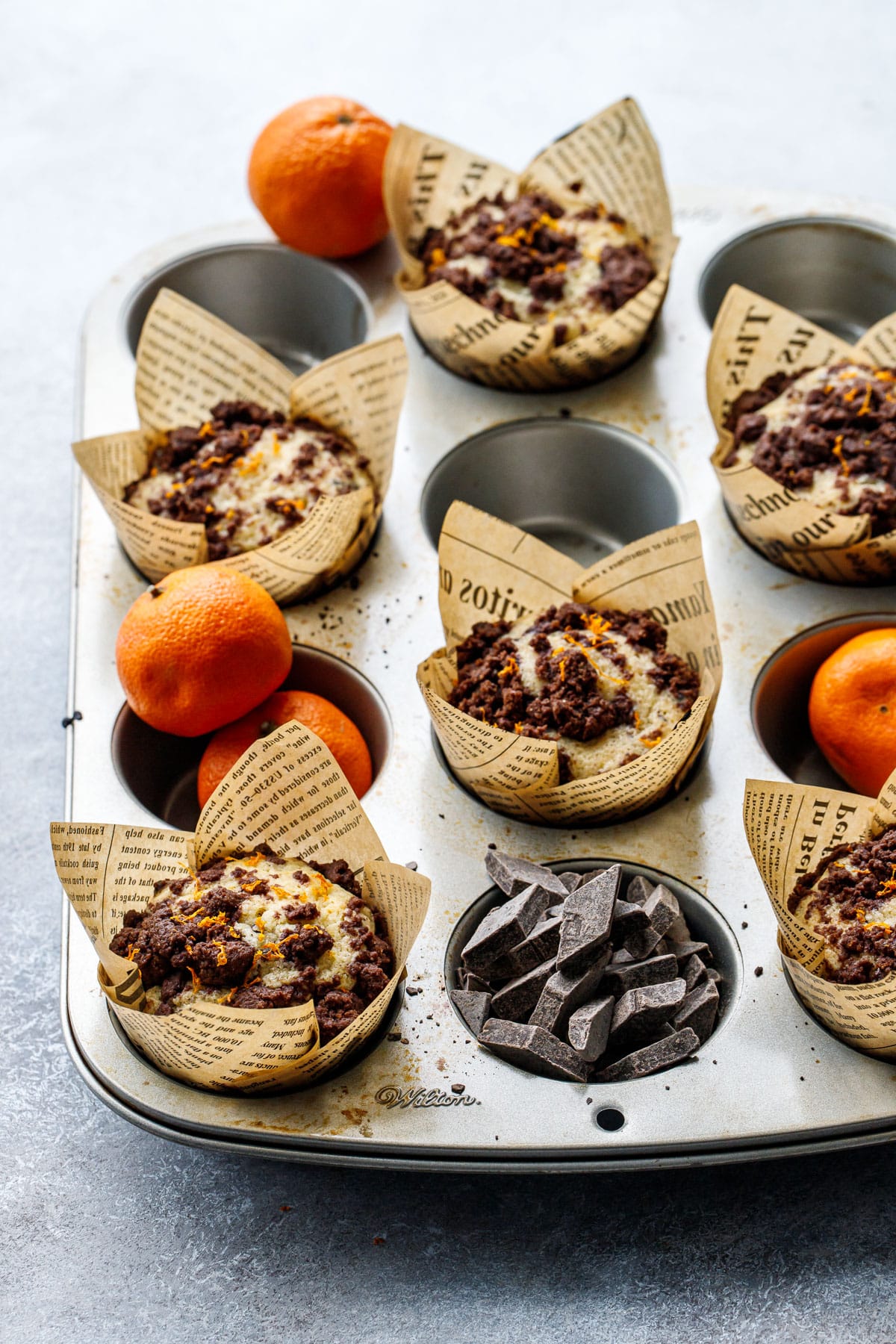 Swaps & Substitutions
Almond flour: Brings a bit of texture and nuttiness (plus a bit of extra protein). I recommend a finely textured almond flour or almond meal (blanched or with skins is fine). I don't recommend homemade almond flour in this recipe unless you have a specific mill or grinder to be able to get it super fine (I've never been able to do it). Alternatively, the almond flour can be left out and replaced with an additional 1/2 cup all-purpose flour. Do not use all almond flour in this recipe.
Orange zest: Gives a hint of orange flavor to the muffins. You can leave it out entirely if you don't want an orange flavored muffin.
Orange extract: totally optional, feel free to leave this out entirely or use 2 teaspoons vanilla extract instead. Or if you want to emphasize the almond flavor more, replace with 1/2 teaspoon almond extract.
Chocolate chunks: I used Trader Joe's dark chocolate chunks in this recipe, though I did chop them a bit smaller for a more even distribution (you're looking for approximately pea-sized pieces). A coarsely chopped dark chocolate bar works, as do chocolate chips in a pinch. You can also leave the chocolate out entirely if you choose (or replace with an equal quantity of another mix-in like dried fruit or nuts).
Sour cream: Full fat sour cream brings makes for ultra moist and decadent muffins. You can use full fat Greek yogurt (unflavored please), but the result will be a dryer muffin. I don't like reduced fat sour cream products as they're usually full of fillers and stabilizers.
Chocolate Orange Muffins with Chocolate Streusel
Studded with dark chocolate chips and piled high with a crunchy chocolate streusel topping, these chocolate orange muffins are, simply put, showstoppers.
For Chocolate Streusel:
½

cup

/

63

g

all-purpose flour

¼

cup

/

52

g

packed light brown sugar

2

tablespoons

/

11

g

cocoa powder

,

sifted

¼

teaspoon

fine sea salt

¼

cup

/

56

g

cold butter

,

cut into cubes
For Muffins:
½

cup

/

100

g

granulated sugar

¼

cup

/

52

g

packed light brown sugar

1

tablespoon

finely grated orange zest

,

from 1 medium orange or 3 small mandarins or clementines

1 ¼

cup

/

156

g

all-purpose flour

½

cup

/

45

g

almond flour

2 ½

teaspoons

double acting baking powder

½

teaspoon

fine sea salt

6

tablespoons

/

84

g

unsalted butter

,

melted and cooled to lukewarm

2

large

eggs

,

at room temperature

½

cup

/

120

g

whole milk

,

at room temperature

¼

cup

/

70

g

sour cream

,

at room temperature

1

teaspoon

vanilla extract

1

teaspoon

orange extract

,

optional

⅔

cup

/

120

g

coarsely chopped dark chocolate chunks or chips
Preheat oven to 400 degrees F.

In a mixing bowl, whisk together flour, brown sugar, cocoa powder and salt. Add cold cubed butter and work it into the dry ingredients until mixture comes together in dry crumbles. I like to start with a pastry cutter, and then switch to my hands part way through so I can really rub it together. You should be able to squeeze the dough and it will stick together in a larger clump. Place in the refrigerator and chill until ready to use.

In a mixing bowl, mix together sugar, brown sugar and orange zest. Whisk in flour, baking powder, and salt.

In another bowl or 2 cup glass measuring cup, whisk together milk, sour cream, eggs, vanilla and orange extract. Whisk in lukewarm melted butter.

Pour wet ingredients into dry ingredients. Stir until almost fully incorporated and only a few streaks of dry flour remains (batter will be a little bit lumpy still; do not overmix). Fold in chopped chocolate.

Lightly cover and refrigerate for at least 15 or ideally 30 minutes. This short chill will stiffen up the batter a bit so the mix-ins and topping are better supported; a short rest also produces a more pronounced rise in the final muffins.

Line a muffin tin with paper liners (tall tulip liners if you have them!) I recommend using two muffin tins and only filling every other cup (or baking two batches of 6 muffins each): this will allow for better airflow and produce a higher rise.

Scoop batter info muffin cups. For tall, tulip wrappers you can do two generous medium scoops, or about 90-95g of batter each. For standard muffin papers, use more like 60-65g, or one large scoop worth per muffin, no more than 3/4 full. If you only have one muffin tin, keep the remaining batter in the fridge until it's ready to use.

If you have an uneven number of muffins in one of your tins (if you're baking with the larger tulip papers, you'll only have 4 muffins in the second pan… fill the two empty cups half way full with water to ensure even baking.) For standard muffin papers you'll probably end up with exactly 12, 6 in each tin, and can skip this step.

Sprinkle a generous amount of crumbled streusel on top of batter (about 2 tablespoons worth per muffin, slightly less if you're using regular sized muffin papers).

Bake for 18 to 20 minutes (about 16 for standard muffins) or until tops are lightly browned and a toothpick inserted in the middle comes out with a few moist crumbs attached but no gooey batter. Let cool for 10 minutes, then transfer to a wire rack to cool completely. If baking a second batch in the same tin, let it cool until lukewarm to the touch, then you can scoop the remaining batter, top with streusel, and bake the second batch.

Muffins will keep in an airtight container at cool room temperature or refrigerated for up to 5 days.
All images and text © for Love & Olive Oil.
There may be affiliate links in this post. We are a participant in the Amazon Services LLC Associates Program, an affiliate advertising program designed to provide a means for us to earn fees by linking to Amazon.com and affiliated sites.
creditSource link